INSIDE OUT 10
22nd March-08th April 2018
THE HARBOUR GALLERY
This March the Harbour Gallery will be hosting the tenth annual exhibition of Prisoners' art and craft work. This year also marks 15 full years of the Harbour Gallery operating and 20 years of the Art in the Frame, so we have a lot to celebrate.
For rehabilitation schemes to be successful it is vital to educate the person as a whole, not just in terms of the qualifications for employment. This offers skill and knowledge development that can have a real impact on the willingness of the individual to embrace change as a person: it can stimulate a sense of personal well-being and improve self-esteem, so increasing the likelihood of a successful reintegration into the community.
The exhibitions so far have been a resounding success with excellent support from families, friends and the general public. The prisoners at HMP La Moye are working towards producing between 60 to 100 items of art and craftwork to exhibit. They are working on paintings, drawings, ceramics and woodwork.
At HMP La Moye we have a team of teachers, one of whom is Lucy Blackmore, a qualified art teacher. Lucy has been working across the whole Prison offering painting and drawing classes for ten years. She says 'The enthusiasm and talent amongst the Prison population is considerable and continues to grow every year'.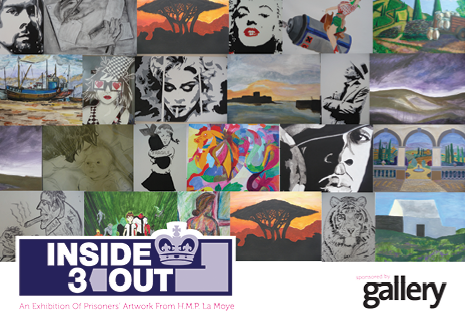 The understated and mostly hidden success of the event is the significance of it as a method for the prison residents to connect with themselves and the community. It is not the subjective standard of the art that matters, it is the learning journey and the positive impact it has on self-esteem and family that is the measure of success. Lucy's great achievement has been to develop this ethos year on year without fail.
The chance to showcase prisoner work is a motivating way of engaging prisoners in creative activity. This raises individual self-esteem and opens minds to engage in other educational opportunities and behaviour management programmes: all geared towards helping prisoners to make life improving decisions.
The exhibition is a welcome opportunity for us to display work from the inside to the outside. We are delighted to announce the exhibition will be opened by the Minister for Home Affairs, Deputy Kristina Moore on 22nd March and will be open to the public 7 days a week at the Harbour Gallery until 08th April.