Ladies (And Gents of course; there's no sexism here in the Feminine Issue) if this month's travel section has inspired you to pack a bag and jet off into the big wide world for an independent adventure, your first priority (after choosing a destination, booking a flight and planning your holiday wardrobe) should be making sure you stay safe on the move. For this issue we've taken a look at some travel gadgets designed to give provide extra peace of mind.
Lifeventure Travel Door Lock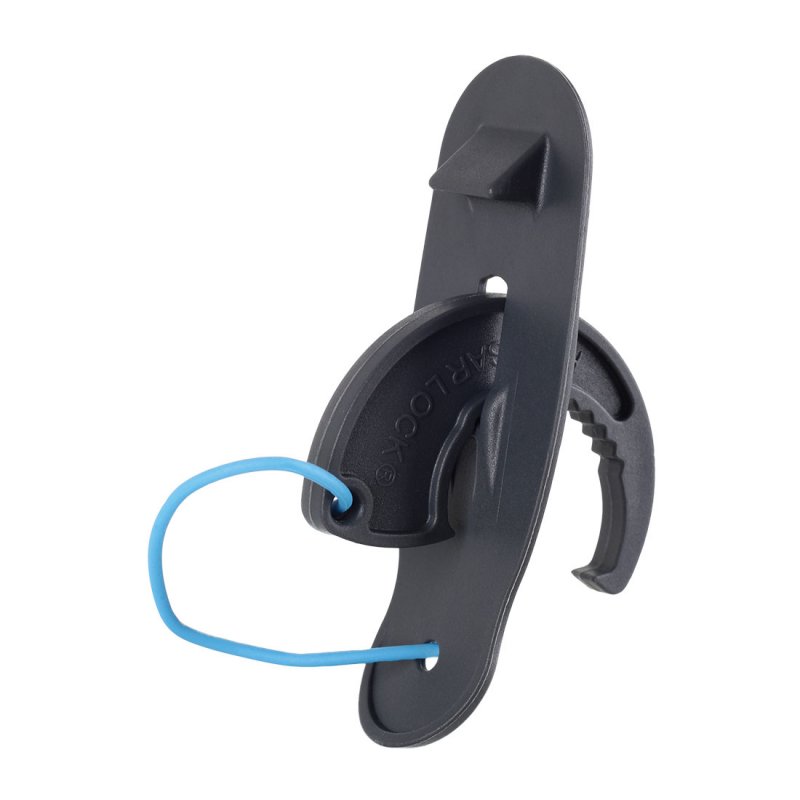 Whether travelling for business or for pleasure, one of the major concerns that Women face when staying in a hotel room alone is who else may have access to a key for the door. Whilst sometimes there's an interior bolt or chain in place to add some reassurance, this isn't always the case, particularly in small hotels and hostels in far flung parts of the world.
Weighing just 10g, taking up next to no space in your luggage and costing less than a large glass of wine, the Lifeventure Door Lock is a travel essential. Made of reinforced nylon this little gadget works on almost any internal door, provides a tamper proof extra level of security and allows you to sleep peacefully, safe in the knowledge that you are protected from intruders.
Simple to install and quick to release I can't think of a reason NOT to pack one.
The Lifeventure Travel Door Lock is £5.99 from www.lifeventure.com
AirBolt Smart Padlock
It's all very well keeping a close eye on your luggage when it's in your possession, but at some point on most journeys you're going to have to wave it off down a conveyor belt into the hands of goodness knows who, and just hope that it will turn up to meet you at the other end, with contents intact.
Padlocks and combination locks are all very well but there's an ever-present danger of losing those fiddly little keys, or forgetting the code that seemed so unforgettable when you set it 6 years ago before that girls trip to Magaluf.
Enter the AirBolt Smart Lock. Pricier than your average lock it's surely worth it for the reassurance that nobody is rummaging through your smalls. This almost indestructible lock is made of die-cast zinc alloy and stainless steel rope chain. Linking to your smartphone via Bluetooth the accompanying AirBolt app allows you to track your luggage, monitor whether your bag has been opened by TSA in transit and unlock it straight from your phone.
The good people at AirBolt have thought of everything. Lost your phone? Log into the app on someone else's handset and unlock from there. Dead battery in the middle of nowhere? There's a back-up combination lock. A tendency to put your bag down and wander off? Set a distance alert and an alarm will sound when your phone and bag part ways.
Waterproof and featuring a rechargeable lithium ion battery, the lock is compatible with all IOS and Android devices that feature Bluetooth 4.0 or higher.
The AirBolt Travel Lock is £69.99 from www.thefowndry.com
Lightweight Cable Lock
It's a known fact that opportunist thieves will always take the easy option. A 'phone protruding from a back pocket, a wallet left sitting on a restaurant table or a handbag slung over the back of a chair are all manna from heaven for the unscrupulous.
So the key to keeping your stuff locked down (pun intended) is to make it look like less of an easy grab that someone else's stuff. Small and light enough to throw in your handbag, the lightweight cable lock features a self-coiling 900mm cable and a 3 digit combination. Particularly useful when napping by the pool or eating al fresco, thread it through your bag handles and around a less movable item (a chair leg or the lounger you're lying on) to make your goods appear less of a good option.
Yes it might seem a bit extra to chain your bag to a table, you might even feel a bit silly, but not as silly as you'd feel wasting days of your holiday trying to obtain an emergency passport or a replacement bank card.
The Lightweight Cable Lock is on sale at £3.99 from Mountain Warehouse
Defender Slimline Personal Alarm
While keeping your personal effects safe is one thing, in the grand scheme of things it's our personal safety that's more important.
The Defender Slimline Personal Alarm is lightweight and discreet but packs a 130 decibel punch should the very worst happen. Easily attached to a set of keys or a bag with the supplied key ring and lanyard attachments, the alarm is activated by pulling the pin and is loud enough to ward off an attacker and attract attention if required. Attach to both yourself and your bag to deter a snatch and grab, or carry in your hand at any time you feel vulnerable.
Meeting UK Police preferred specifications this is one of the highest quality personal alarms on the market, and also features a powerful torch as an extra layer of convenience and safety.
The Defender Slimline Personal Alarm is £5.95 from www.redlinesecurity.co.uk