WORDS Russ Atkinson
PHOTOS Russ Atkinson & Consensio Chalets
Believe me, I'd have likely found solace in the pain emanating from my shoulder having been caused as the result of landing a huge back flip or something equally heroic but the truth was that I'd simply bent down to pick up a beanie to keep my head warm as I prepared to struggle my ski bag down the stairs and set off for the airport ahead of a weekend trip to Val d'Isere with Consensio Chalets. This wasn't a great start. It wasn't even an unremarkable start. It was definitely a bad start, but the kind of ironic misfortune that you have to try and see the funny side of.
Leveraging the sympathy of my fellow guests soon after the introductions had been taken care of in an attempt to bump myself up the list for a massage, imagine then my relief when the masseuse revealed that she was also a fully qualified physiotherapist. Things were looking up, and as much as I had more than just an inkling that a visit to L'Elephant Blanc was to be unlike any chalet I'd visited in the past, this was one of the first indications that Consensio's levels of attention to detail were in another league. That, and the transfer bus that picked us up at Geneva airport having been equipped with iPads and wifi so that you could catch up on your favourite Netflix series or gloat via social media on the way, all whilst the Perrier-Jouët flowed and crumbs from the exquisite picnic they'd laid on tumbled to the floor, or course.
As you might imagine, there'd be no lifting of ungainly bags on arrival with the friendly but discreet staff forever taking care of things in the background, leaving us to soak up our surroundings as we ascended through the entrance hallway. Architecturally, L'Elephant Blanc is a blend of the traditional wooden alpine lodge we've all come to know and love and a touch of contemporary class in the bare, polished cement rendered walls which are impossible to resist running your fingers across as you pass, sparkling stone surfaces and beautifully crafted cabinetry throughout. It's a cosy, peaceful haven with the added bonus of knowing that there's also a hot tub patiently waiting on the deck outside. Not to mention the sauna and steam rooms nestled in the basement to escape to if your family and friends aren't able to maintain the peaceful vibe after a few flutes of champagne or a tipple or twelve from the extensive gin bar in the lounge over a tasty round of afternoon tea. Setting the pace is up to you, and wanting to experience all that Val d'Isere had to offer during the short stay we decided to increase the pace a little with a visit to the BMW Ice Driving Experience.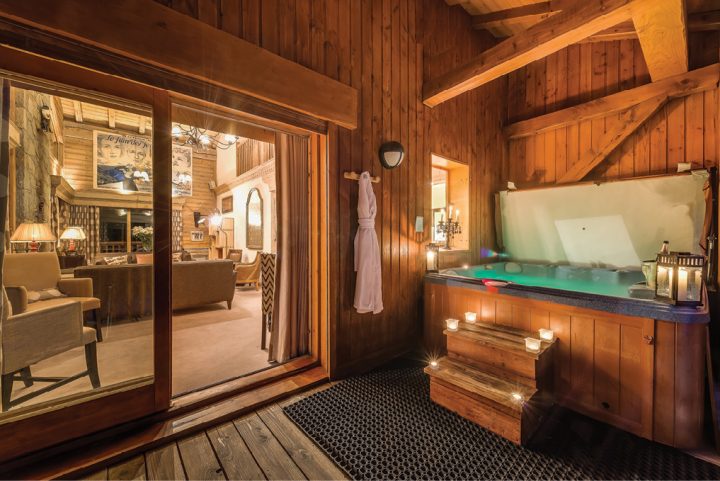 Having been flung around the leather interior of a 1-Series at the hands (and feet) of an expert exuding the sort of typical Gallic nonchalance that you might expect, the next item on our agenda was ski hire. Admittedly I'd taken my own, but the others were kitted out in no time at all thanks to Snowberry ski hire's scientifically mesmerising biometric measuring system without even having to leave the comfort of the chalet, and therefore also never having to venture too far from the comfort of the chalet's roaring fire or selection of beverages, depending on where your priorities lie. Pro-tip, this would also go down a storm with kids. Not having to traipse to a ski shop, I mean, rather than feeding them spirits.
Having degusted a delightful dinner it was time for bed and some well earned rest – this travelling lark can be tiring, after all, and as I sunk into my bed and felt my eyelids fall there was only one thing on my mind.
There's no denying that the overall experience that Consensio provide alone is grounds for a visit to one of their chalets, but the truth of the matter is that you pay a winter visit to the mountains with the sole intention to ski, and so ski we did. With a guide from Evolution2 arranged and a biblical amount of snowfall in the days running up to our visit we took a trip off piste under a pure blue sky that made you realise that sub-par seasons might just be a thing of the past. One comical how-the-hell-did-that-even-happen style tumble in the powder on my part and a handful of pistes pounded later, our appetites for sustenance outweighed that of our appetite for snow but a stop at Le Yule for lunch soon satisfied the stomach. If you're ever passing, I'd recommend a visit.
Whilst most of the group prepared for dog-sledding, two of us more adventurous, or should I say foolishly brave, souls awaited the fate that we'd agreed to; ice diving in Tignes' lake of epic new years eve party infamy. Amidst the onset of terror, something struck me that elicited a smile. My skis were now directly opposite our table rather than the sixty or so feet away that I'd left them, as Consensio's chauffeur had already located and conveniently relocated them to save me the effort. Sometimes the simple things matter the most.
'I know Tignes really well, let's just ski over – we've got plenty of time', I'd said. One hour, five lifts and a couple of wrong turns later we'd arrived at Le Lac and failed to 'accidentally' miss our ice diving slot leaving us no excuse but to suit up and try avoiding a panic attack. We'd been assured that no previous SCUBA experience was necessary yet still my brief foray into the life aquatic in a swimming pool fifteen years ago was of little consolation when it came to conjuring up some confidence. 'Ice diving? Under a frozen lake? But… You'll hate it!', said the same friend who'd shown me the ropes in the pool all that time ago said at the mere mention of it over dinner before I'd set off.
Well, I'm pleased to say that he was absolutely wrong. Firstly, and I'll admit that this will be hard to believe, it wasn't cold in the slightest. Furthermore, it was possibly the most peaceful and surreal experience I've ever had the opportunity to savour. Once you slide through the hole in the lake's icy surface you'll be captivated by the bubbles as you exhale trickling up onto the smooth curvature of the ice you're floating beneath, shimmering like mercury in anti-gravity against a gradient of blue light fading into complete darkness as your stare advances into the distance. If you're a bucket-list kind of person, get your notepad out.
Regaling our tale over afternoon tea, no sooner had we convinced everyone that the diving was genuinely enjoyable than the next item on the agenda awaited. A Savoyard dining experience in yurts lit by a blazing fire nestled in the woods towards Les Brevieres involving kir and a host of local wines and produce served up ready to dip into a fondue, presumably with the intention of fattening us up to aid the effect of gravity when it came to descending the pistes on sledges. Imagine Mario Kart, on snow, in the dark. It sounds treacherous but with smiles all around even despite some impresive close-up views of the piste bashers burning their midnight oil you could tell that it'd been a hit. Figuratively speaking, of course.
Consensio have a great policy when it comes to attending to guests' needs, which is that as long as it's legal they'll endeavour to arrange it, and I've no doubt that their staff would happily go above and beyond what would usually be considered sufficient when it comes to ensuring your stay with them is one you'll be talking about for years to come. Personable and well humoured but with an air of professionalism at all times that isn't even mildly stuffy, their contribution both interacting with the guests and quietly working away in the background ensuring that everything was perfectly presented at all times really made a difference to life both in and out of the chalet. Combine this level of service with the sheer amount of things that Val d'Isere has to offer in addition to the great snow covered terrain that you'd expect and you're onto a winner, whether you're a thrill seeker, apres-ski aficionado or a fully-fledged foodie.
Speaking of which, our visits to l'Edelweiss for lunch during another day of great guided skiing, this time with Ken Smith from Progression Ski, followed by an evening of wine and cheese tasting with an affable Gallic gent named Antoine, owner of La Cave should be on any foodie's hit list, but most importantly the dishes served in the chalet itself are more than worthy of a mention in terms of both flavour and presentation. They're also able to take all manner of dietary requirements in their stride to accommodate all diners without compromising on taste. The icing on the table, if you will, was the chef's presentation of dessert on the final evening but I'll leave you to scroll through the @ConsensioChalets Instagram feed to satisfy your culinary curiosity.
Val d'Isere is a community of people proud of what their resort has to offer. Tignes has always been one of my go-to destinations, but now I'm ever so slightly older Val d'Isere has won a little high altitude place in my frosty heart. And so it was with a heavy heart I stepped back into the transfer bus to catch up on some sleep ahead of the flight home, the pain in my shoulder replaced with the emotional pain of not being able to stay just one more day, and then one more, and one more… I'll be back one day though, don't you doubt it.