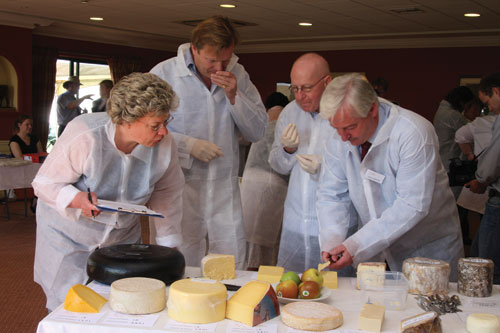 Cheesed off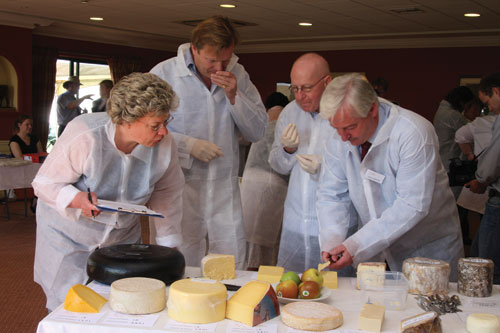 Local cheese producers cleaned up at the first World Jersey Cheese Festival – the first ever taste-off to pay homage to cheese made completely from Jersey milk.  An impressive seven out of the seventeen categories went to local cheese makers. The judges, including a UK queso-expert as well and homegrown chefs and foodies, did blind tastings of ninety entries from ten countries across the globe: from the USA, Denmark, Sweden, UK, Australia, Holland and Rwanda. That?s a lot of cheese. Classic Herd from Manor Farm in St Peter won four golds – two for their Camembert, one for their peppered brie and one for their new semi-hard cheese, Jersey Cache.  The Dairy?s new Le Fronmage mature cheddar got lucky and unknown home producer, Julie Vétier, got two prizes.  All excellent going for an Island that, until recently, had no history of cheese production.  If you are wondering who got to go home with the big one, it went to the aptly named Jan Dirk Van Der Voort to the soundtrack of Spandau Ballet.
Out of the box
More of a reason to rush for the beach this month as the Potteries have, thankfully and finally, gone west. Their new venture, the Oyster Box, has opened in St Brelade?s Bay with, what looks to be the consistent quality and reassuring loveliness that we expect from this legendary Jersey institution. The Oyster Box is under the expert eye of excellent head chef, Roger White, who has been delivering delicious delights to diners at that other Potteries gem, Castle Green.  Passionate about local produce,  Roger?s team are committed to sustainable fishing and sourcing locally.  Roger has lots on the menu that hails from our fair shores –  asparagus, scallops,  lobster, crab, (the full fruits de mer thing), John Hackett?s pork, and, of course, oysters. Designed with shoreside Sydney or Barcelonetta in mind, the interior – and exterior terrace – look as good as the menu. Morton and Morton supplied the lovely white and turquoise Lloyd Loom seating, creating a relaxed and comfortably civilised restaurant that is perfect for a light lunch and a glass of rosé or somewhere to get seriously tucked in while watching it all going on on the beach. Heaven.
Dressing up
Pared down simplicity is to be recommended.  Take a trip to Vom Fass in Voisin?s to sharpen up your taste buds. Found in the hallowed halls of Selfridges and Harrods, they specialise in excellent ranges of oils – nut and olive (some so virginal they have never looked upon a man) and delicious balsamic vinegars. Taste everything, but strongly recommended is the delicious olive oil flavoured with lemon, basil and rosemary.  Clean, concentrated and utterly delicious, mix it with aged balsamic vinegar. Or try pistachio oil with raspberry balsamic or chilli oil with mango balsamic vinegar – the possibilities are endless.  The staff are charming and helpful and will let you taste away and advise on mixing. Whilst the barbie season is upon us, try Soy Vay Cha Cha Chinese Chicken Salad Dressing for its name if nothing else.  An all-natural salad dressing with the nutty taste of sesame oil, it combines pressed soy and sesame oils, vinegar, sugar, toasted sesame seeds,  oriental hot mustard and ginger. Marinade your meat and toss on fresh green leaves or add to a stir fry. Available exclusively from Rondel?s Farm Shop.