WORDS Rebecca Evans
Vogue! Sorry, Gallery! I lost my focus for a second there. For the Develop issue it's all about photography, and this month I'm peering through the viewfinder and exposing som
e of the most fun and functional 'tog gadgets on the market. From moody landscape shots wor
thy of Ansel Adams, to a quick selfie for your Insta-story, there's a flashy gadget here for everyone.
LUMEE DUO LED CASE FOR iPHONE
We have Motorola to thank for the meteoric rise of the selfie, after they added a front facing camera to their A835 model back in '03. Originally intended for video conferencing, the concept was quickly hijacked by narcissists the world over, as they discovered it's pouting potential. A decade later the S word was added to the Oxford Dictionary, and we've never looked back. Whilst phone cam technology has improved in leaps and bounds since then, it's still tricky to get a decent self-portrait in low light conditions.
Lumee cases first lit up the market in 2016, and are the perfect gift for those who love the lens. The Lumee Duo features both front and back facing studio quality LED lights, with adjustable brightness. Throwing a soft and natural light on the subject makes for airbrush perfect shots no matter the conditions, and as an added bonus the tough construction of this rechargeable case will protect your phone, whilst the soft grip edges are drop-resistant. If there's a drawback it's that you're likely to attract a little more attention to your stealthy nightclub selfies, but there's no gain without a little pain.
The Lumee Duo Case is available from Powerhouse from£40
CLASSIC CAMERA PRESS OUT & BUILD CRAFT KIT 
Digital cameras are all well and good, but do you pine for the days of rolls of film in little plastic tubs, hanging round Boots for an hour whilst your pictures are developed, and such an old-fashioned concept of negatives? Now largely used only by professionals, unless you have one knocking around the back of a drawer, cameras that take film are hard to come by and expensive.
The Classic Camera Kit offers a novelty trip down memory lane without breaking the bank, and it's fun to construct too. Double win. As you'd expect for a product produced by Haynes, the instructions are clear and all parts and tools except the requisite 35mm film are included. Once your camera is constructed you're ready to get snapping.
The photographic results from a DIY plastic camera aren't going to worry Annie Leibowitz, but a quirky vintage looking finish from a quirky vintage looking gadget seems reasonable.
The Classic Camera Press Out & Build Craft Kit is £19.99 from Waterstones
GO PRO FUSION
For someone who is still getting to grips with the Panoramic setting on her iPhone camera, the concept of taking completely immersive 360 degree photos and videos blows my mind, but apparently that's what the cool kids are doing these days.
The latest addition to the Go Pro action camera family is the Fusion. Described as 6 Go Pros fused into one, this little wonder captures crystal clear spherical video and photos, and allows the user to punch out the best shots later, using Go Pro software or the compatible app. Inbuilt voice control removes the need for a remote, and leaves both hands free.
Capturing 5.2k video, the Fusion is as indestructible as you'd expect from this brand, waterproof up to 5m, and features spot-on stabilisation and 360 degree audio capture to enhance your footage and create breathtakingly immersive virtual reality footage. If all this wasn't reason enough to splash out, the overcapture feature allows the user to transform their 3D footage into extraordinary traditional photos or videos ready to share, quickly and simply via a connected phone.
The Go Pro Fusion is £649 from www.gopro.com
GORILLAPOD TRIPOD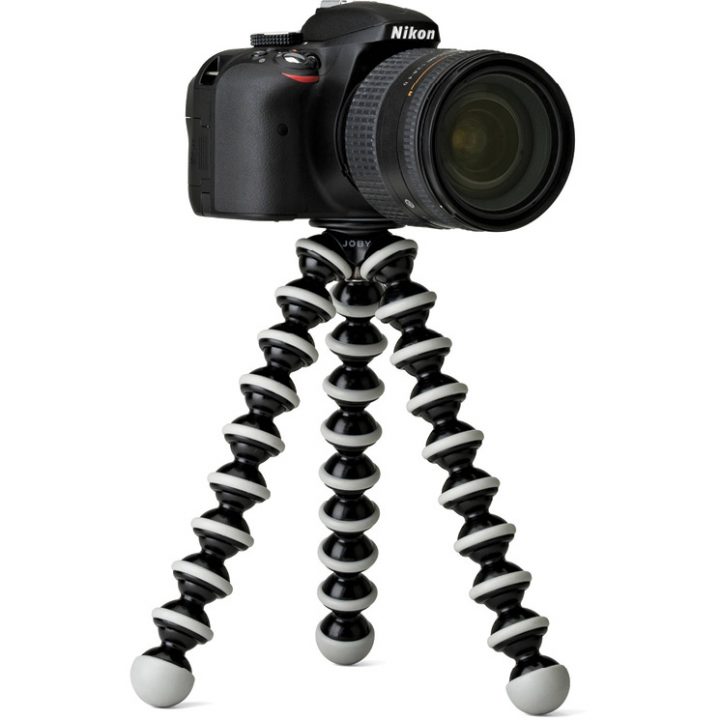 Whether your photography style is opportunistic and slap dash, or well-planned and structured, at some point there will be call for a tripod. Maybe it's to catch a long exposure star scene from the North Coast, or a group sunset shot down St Ouen that everybody wants to be in.
Gorilla Tripods are the go-to option for any situation. From lightweight versions designed for mobile phones or action cameras, to the heavy duty 5K which will support even the heftiest DSLR set up. There's a magnetic version, a mini one, and even one designed just for vloggers. Who knew?!
Super versatile, portable, flexible and capable of gripping, wrapping around or resting on almost any surface these handy little stands will guarantee rock-steady support to capture skilful shots. No flat surface available? Just bend the flexible legs around a pole, a branch or your wing mirror and starting hitting that shutter. 
Gorillapods are available from www.amazon.co.uk and start from £13.99
POLAROID ZIP MOBILE PRINTER
When was the last time you took a photo? Today, yesterday, last weekend? And when was the last time you had one printed? Last year? Last decade? If you're anything like me you'll have a camera roll packed with pictures of friends and family, which will never see the light of day, much less a frame.
The Polaroid ZIP offers a quick and easy way to make your memories tangible. Pocket sized and portable, this little printing powerhouse charges via mini USB (cable supplied) and can manage 25 prints before needing more juice. Download the free Polaroid app and connect your IOS or Android phone via Bluetooth or NFC to easily edit your shots before printing.
The resulting pictures are a fun and shareable 2×3 inch size, and printed onto ZINK photo paper which negates the need for messy ink, and has a peel off sticky back for fun display of your snapshots. All the fun of a retro Polaroid camera, without actually having to carry one around.
The Polaroid ZIP printer is £91.66 from www.amazon.co.uk (VAT removed for delivery to Jersey)