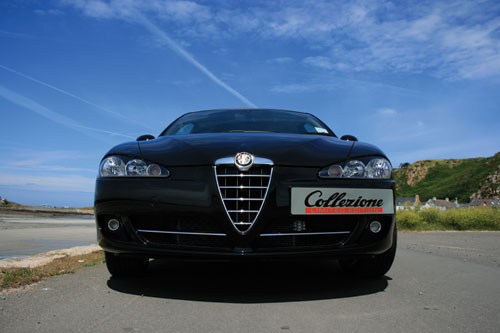 The Alfa Romeo 147 has been around a while now, and it has always been a pretty car, but in the Collezione edition the designers have made it beautiful.
They?ve added leather seats, big 17? alloys, dropped and firmed up the suspension, and added a couple of other little touches that make it stunning inside and out.
When you are choosing a new car it really is so often about the character, and the new interior styling of this edition gives the 147 a plush luxurious feel that exceeds most similar cars. It reminds me of something much more expensive, and it makes a big difference. It makes you feel special. No, really! It does! It isn?t like just getting into the car ? you look forward to being in your little piece of luxury.
Driving the 147 Collezione is fun, with firm sporty suspension, and excellent handling through the corners. The model tested was the 1.6 petrol 5 door, with another delightful design feature ? the rear door handles are mounted high up on the door pillars. A small detail but a really nice touch. And in the rear the leather continues, maintaining the comfort and quality feel.
The instrumentation and controls are all pretty straight forward and in the right places. All models have what I think is the one essential ? air conditioning, and nice audio controls on the steering wheel for the very good sound system.
It makes you feel special.
No, really! It does!
A long time ago Alfa had a reputation for unreliability and poor quality, but that is long gone. Over recent years Alfa has undergone a similar quality transformation to Fiat, where they literally stopped production, tore up the rule book, and started again. This shows not only in the build quality, but the design too. It will be really tough to find a better looking car in this category.
Also and unlike most, if not all, manufacturers all Alfas now arrive pre-checked and ready for the customer. They don?t need the usual pdi ? (pre delivery inspection) that traditionally is required before new cars are handed over to the customer, where they are cleaned up, checked that everything is working. That is all done after leaving the factory at a purpose built centre. Just another element in the whole quality control process.
So, if you want something gorgeous, luxurious, and well priced, take a look, you may well be surprised.