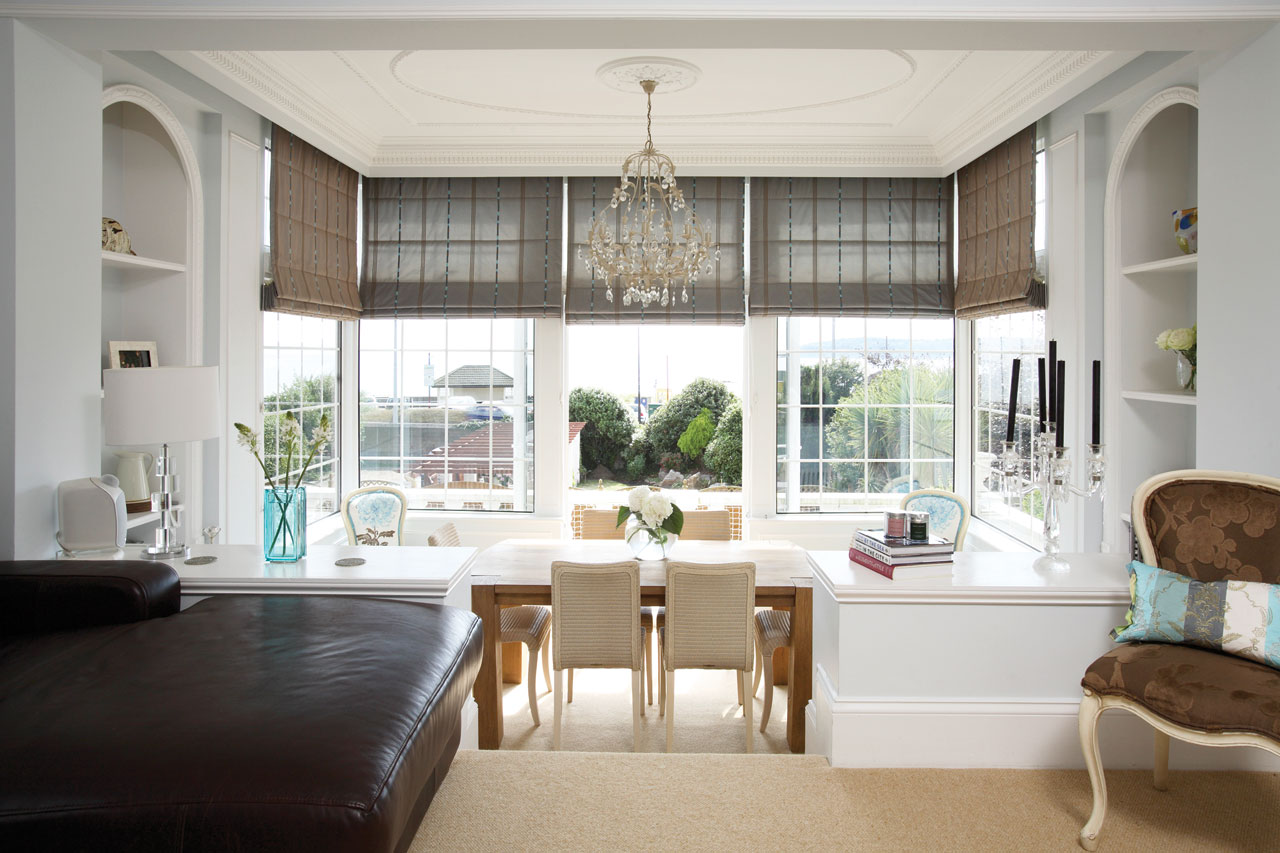 Villa Rayson wouldn't be a bad place to live if it was dropped into the middle of a housing estate surrounded by tower blocks; you could always just draw the blinds and enjoy the great indoors. Throw in its actual location, a hundred or so steps from the beach and with stunning views across St Aubin's Bay, and it becomes a property that demands, at the very least, a second glance.
The three-bedroom, three-bathroom duplex apartment lies just back from The Avenue in St Lawrence and has been refurbished to a high standard over the past five years by the owner, a property designer who collaborated with a London-based interior designer on the project.
Ascending a low-lit staircase from the front door, there's an immediate wow-factor on entering the drawing room, which has a high (2.7 metre) ceiling, Chesney stone fireplace, recessed shelves and cupboards and a Lutron lighting system that allows for a range of pre-set 'moods.'
There are views directly out to the east, but the eye's more likely to be caught by the south-facing vista: the room drops away to a sunken dining area with a bespoke table and huge windows on three sides, opening up the panoramic views stretching from Fort Regent to Noirmont Point. Doors open onto a huge balcony, which comes with the same views, surround sound system and LED lighting as the interior.
"Villa Rayson is a home that most owners would want to show off, and is perfectly-equipped for entertaining"
The first-floor also contains the kitchen, with granite work surfaces, under-floor heating and a large ceramic sink with a view. To the rear lies a small amenities room, keeping some of the household appliances accessible but out-of-sight, the stone-floored 'house' bathroom, and the master bedroom. The high ceilings in the bedroom are accentuated by a raised custom-designed headboard, while the room also features Victorian radiators, an airing cupboard and an ensuite shower-room with atmospheric lighting, double-width shower and sink and under-heated slate flooring.
Stairs – featuring a Victorian-style Mahogany balustrade – lead to the upper floor, which has two good-sized bedrooms, one of which has recently seen service as an office, with a small but well-appointed shower room in between.
Other features of the property, which is available through Choice Properties at an asking price of £725,000, include a private garden area with lawn and patio and four parking spaces.
Villa Rayson is a home that most owners would want to show off, and is perfectly-equipped for entertaining. The kitchen has a freestanding range cooker with six rings and a double oven, with guests accommodated either on the balcony, or inside in the dining area, which seat 12 people (the table is one of several pieces of custom-built furniture that would potentially be available to a purchaser).
The pressure to cook and entertain need not be overwhelming however: if it's an impromptu gathering, or you're just feeling lazy, just stroll 99 of the 100 or so metres to the beach, and catering courtesy of Pizza Quarter is right there. What you might call a win-win scenario.
ST LAWRENCE
3 BEDROOMS
3 BATHROOMS
PARKING FOR 4
CATEGORY A-H
£725,000