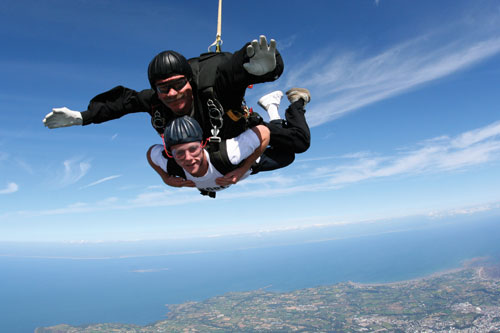 A tandem skydive fundraising event is being organised in the island to raise much needed funds for a Jersey charity called ?Hope for John?.  The small Jersey based charity is raising funds for research into Lafora body disease of which there are only 200 cases worldwide and is calling for daredevil islanders to sign up for the chance to do a tandem skydive over Jersey.
The ?Hope for John Tandem Sky Dive? will take place on Sunday 28th August 2011 in Jersey and is being organised by Carol Rafferty and will be managed by experienced instructors from Jersey Sky Dive.  The cost of a tandem skydive is usually £350, however, Jersey Sky Dive has kindly brought the cost down to £300 per person, with the Hope for John Charity paying £150 for each person willing to take the challenge. This event is also being generously sponsored by Kendrick Rose.
Carol Rafferty, event organiser, said: ?We are extremely delighted with the response so far.  There appears to be quite a few daredevils living in the island!  All we are asking is for people to raise a minimum of £600 in sponsorship.  I am certain people can raise this as friends, family and colleagues tend to be quite generous when people commit to jumping out of a plane for charity!?
The challenge is open to individuals and groups aged 18 and over. No previous experience is required and the closing date for entries is 15th July. To get involved, call Carol on 07797 910467 or email carolrafferty@jerseymail.co.uk.