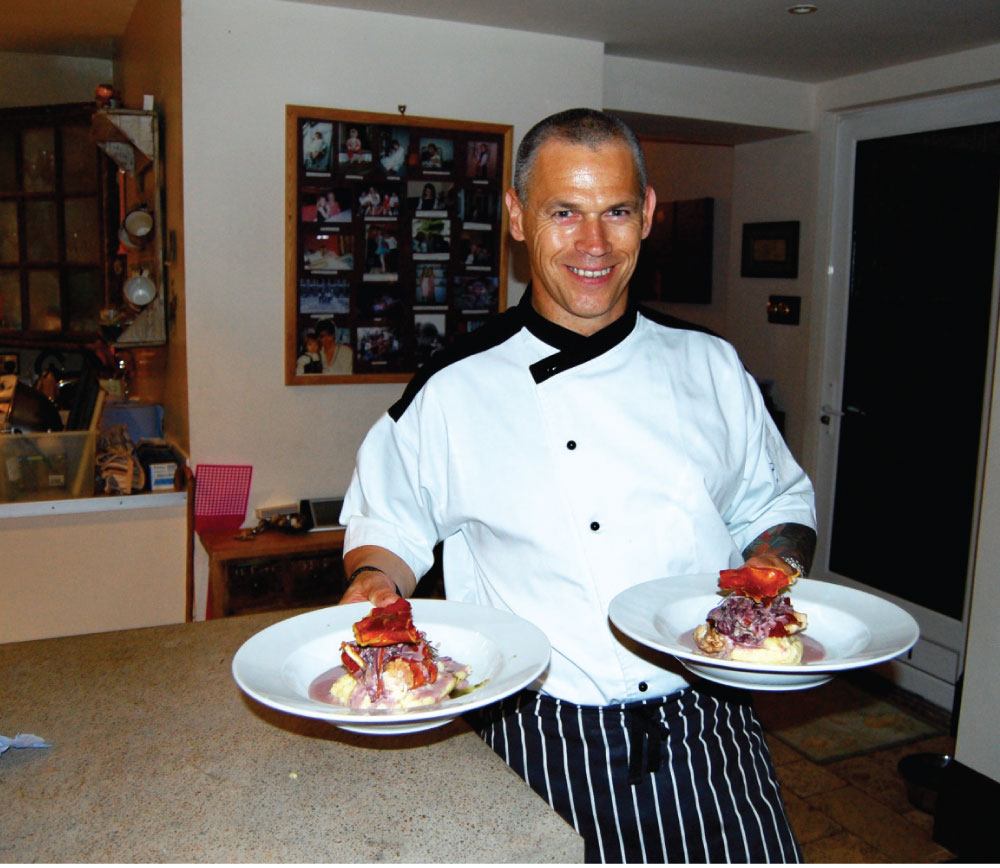 As the sun set, we eight, we lucky eight, were joined by Danny on the precipice of La Roque to be treated to the man, at home. His two restaurants, renowned for their fresh, bold cooking are now the springboard for Danny's new enterprise; small scale, intimate and fun private functions, tailored if needs be, to the most idiosyncratic of requests.
This is about personality in all senses. The mantra that emanates from his restaurants is brought straight to the home. This is about new flavours, strikingly pleasing combinations and a sating sensory experience. Spurred off the back of his own cookbook, Danny's at home will bring to your own table the now mature fruits of over 30 years of experience, experimentation and locomotion in the world of food. Let us begin.
Not a fan of exact methodology, Danny escorted us through a robust, fascinating and educational three-course meal. This was a carefully planned and executed service, bulked out by his gregarious nature. We ate, he talked, he demonstrated, we learnt.
Himself a student of taste, he educated this largely heathen bunch through the science of taste. We began with a basil leaf. Nose pinched we chewed this bland cud, nose released and the full intoxication of basil engulfed our olfactory system, as Danny explained this was in fact the little known Umami taste. Everybody at the table loved the educational and cookery demonstration aspect of the experience, as each foodie gambit he offered spurred some unusual and great table conversation.
Right there in front of us, with his sidekick apprentice Taylor, Danny rustled up our starter. Tender, shredded meat of confit duck leg, tossed in a little sesame oil with crunchy vegetables and passion fruit and soy dressing. A winner in all eyes and an artful combination with the sweet and salty dressing that uplifted the dish and put to practice his understanding of taste. Now this was fusion: the main was supreme of chicken, a great red wine sauce, silky mash, salty Parma ham and a hint of truffle oil. Cooked as we sipped his, I must say, excellent choice of wines; albeit an expectedly Antipodean affair.
Danny was keen to stress that this was stuff you could do at home. This is not food that will alienate you, it might even inspire you. To conclude was a perfect little mousse of chocolate and coffee with hazelnut biscuits, a fine ending to a worthy feast.
It seems Danny's at home is genuinely and sincerely about spreading the love of good food, its preparation and evolution, into our homes. It really lets you enjoy being a host. Simply put this is the recipe for a cracking evening of entertainment and delicious food from one of the island's most noteworthy chefs.
Danny at Home is a bespoke experience which is easily tailored to your exact needs; from formal sit down dinners for up to 12 people to brilliant BBQs he can do it all. This would also make a great corporate team building event, so wave this article under your boss' nose. For more information on the different dinner parties on offer visit www.dannys.je or call Danny's in St Aubin on 747306