To celebrate their 60th anniversary this summer, Durrell have partnered with Wild in Art, an organisation that create mass participation art trails, to get islanders and visitors our around the island, visiting unique Gorillas decorated by artists from Jersey and around the world.
The following images show the 40 brightly coloured, artist imagined, life-size gorilla sculptures, which will lead people on a trail of discovery, not only to see the gorillas themselves, but the nature in which they are placed. Some are found in attractions and venues and others in wild locations in parks and heritage sites.
This large scale community project will bring together art and conservation to help raise funds for Durrell, in particular it will mark the launch of their fundraising efforts to build a state of the art new gorilla house at Jersey Zoo. Durrell is aiming to better connect one million people to nature by 2025, playing a role in creating 'a wilder, healthier and more colourful world for future generations'.
1. A BOBBY-DAZZLER l
Artist: Andrew Routh
Sponsor: Rok
Location: La Hocq
2. APE-IARY l
Artist: Donna Newman
Sponsor: Parish of St Helier
Location: Parade Gardens
3. BE WHO YOU REALLY ARE l
Artist: Lucy Fleming
Sponsor: Healthhaus
Location: Val de la Mare Reservoir
4. BLUE JUNGLE l
Artist: Louise Le Luyer
Sponsor: Girlguiding Jersey
Location: La Mare Vineyards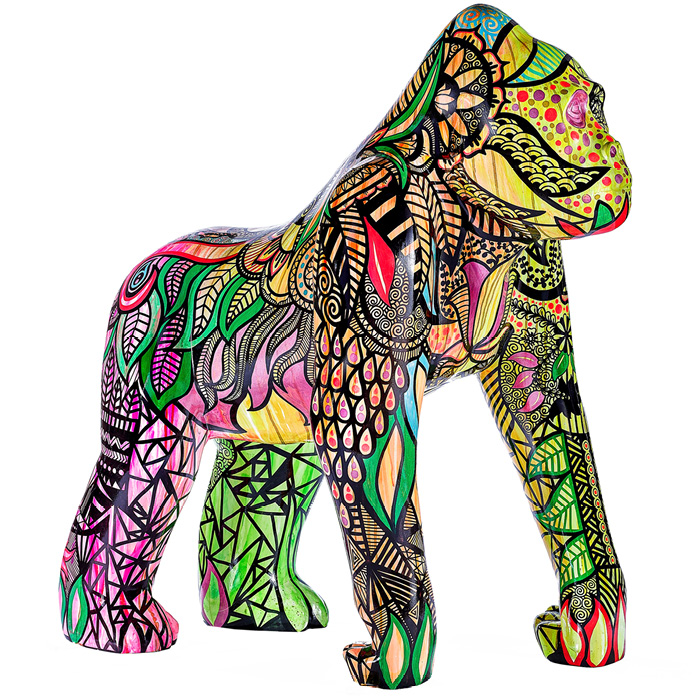 5. CREATIVE VIBES l
Artist: Amrit Singh
Sponsor: Cooper & Co
Location: Trenton Square
6. DIA DE LA EXCTINCIÓN l
Artist: Tim Sutcliffe
Sponsor: Affinity
Location: Millennium Park
7. DING DONG l
Artist: Ben Robertson
Sponsor: Cannacord
Location: St Brelade's Bay Hotel
8. DREAM SIGNING l
Artist: Oli Nightingale
Sponsor: Santander
Location: Jersey Rugby Club
9. DYNAMIC HERO l
Artist: Kenneth Rocafort
Sponsor: Durrell
Location: Royal Square
10. FLORILLA l
Artist: Lena Kibbler
Sponsor: Ravenscroft
Location: Archirondel
11. FOREST GUARDIAN l
Artist: Graham Bannister
Sponsor: Rathbones
Location: Quennevais Sports Centre
12. GERALD DURRELL l
Artist: Kelly Stanford
Sponsor: BHP
Location: Jersey Zoo
13. GORILLA IN THE MIST l
Artist: Abi Overland
Sponsor: PwC
Location: St Peter's Valley
14. GORILLAS AND PENGUINS SHOULD NEVER MEET l
Artist: Nick Romeril
Sponsor: Quilter Cheviot
Location: Jersey Airport
15. GROOVY GORILLA l
Artist: Gabriella Street
Sponsor: Liberation Group
Location: Mont Orgueil Castle
16. I-SPY GORILLA l
Artist: Gabriella Street
Sponsor: Citi
Location: Howard Davis Park
17. INDIGO BATIK l
Artist: Marcus Davies
Sponsor: Cazenove
Location: Victoria Avenue Park
18. JAMBO SANA l
Artist: Maria Tarrant
Sponsor: Sure
Location: Grève De Lecq Barracks
19. JER-SEA l
Artist: Anne-Marie Byrne
Sponsor: RBC Wealth Management
Location: French Lane
20. JERSEY BOY l
Artist: Sian Ellis
Sponsor: de Gruchy
Location: Gorey Harbour
21. JUNGLE BANANA SPLIT l
Artist: Francesca Monticelli
Sponsor: Marketing Bureau
Location: Charing Cross
22. KING (HONG) KONG l
Artist: Jess Perrin
Sponsor: Mourant
Location: St Brelade's Bay Gardens
23. KONG OF THE SAVANNAH l
Artist: Jess Perrin
Sponsor: Investec
Location: Maritime Museum
24. LONG JOHN SILVERBACK l
Artist: Sue Webber
Sponsor: Rubis
Location: Jersey Harbour
25. MONKEY BUSINESS l
Artist: Donna Newman
Sponsor: Bailiwick Express
Location: West's Centre
26. OUR ISLAND l
Artist: Sian Ellis
Sponsor: TrustFord
Location: Victoria Avenue Bunker
27. PROTECT WHAT IS PRECIOUS l
Artist: Alastair Knowles-Lenoir
Sponsor: Valla
Location: St James Church
28. RELIC l
Artist: Will Bertram
Sponsor: The Atlantic Hotel and Ocean Restaurant
Location: Plemont headland
29. ROTCHI l
Artist: Amy Bourbon
Sponsor: Ronez
Location: La Route Du Nord
30. SEASC'APE l
Artist: Mike Harris
Sponsor: Jersey Pearl
Location: Sands
31. SPACE APE l
Artist: Kelly Stanford
Sponsor: Delta
Location: Royal Jersey Showground
32. SYMBIOSIS l
Artist: Adam Pekr
Sponsor: Paul Davis Freight Services
Location: St Aubin
33. THAT ELUSIVE DODO l
Artist: Oliver Winconek
Sponsor: The Royal Yacht
Location: Havre des Pas
34. THE ISLAND BREAK l
Artist: Lauren Radley
Sponsor: Visit Jersey
Location: La Corbière
35. THE SPACE BETWEEN US l
Artist: Andy Coutanche
Sponsor: Deloitte
Location: El Tico
36. THE SPIRIT GUIDE l
Artist: Marta Zubieta
Sponsor: Equiom
Location: Faulkner Fisheries
37. TRUE COLOURS l
Artist: Stuart Semple
Sponsor: Jersey Post
Location: Coronation Park
38. WE ARE ALL CONNECTED l
Artist: Lois Cordelia
Sponsor: Durrell Gardiens
Location: Catherine Best
39. WHAT, ON EARTH? l
Artist: Cliff Wright
Sponsor: Quilter Cheviot
Location: Liberation Square
40. ZEUS l
Artist: Caroline Parrott
Sponsor: Estera
Location: St Catherine's Breakwater