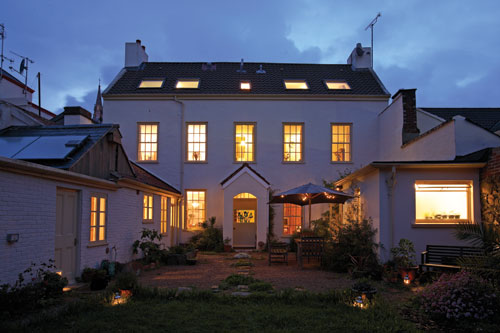 This truly unique early 19th Century Town House has been lovingly and thoughtfully restored by its owners into an organic vegetarian guest house. It is Jersey?s first ?transition? house, built with the future of the environment in mind.
Warwick House is anything but ordinary; built around 1810, it was THE house of the area, commanding a detached southerly perspective surrounded by orchards.  Over the centuries the town simply expanded around it.  The legacy of those ancient orchards lives on in the large private walled garden which continues to be a haven for wildlife.
This substantial heritage property exudes charisma, beauty and elegance.  Overflowing with character and original features, every room has been meticulously designed and decorated. The reception rooms, kitchen, guest bedrooms and bathrooms are all decorated to the highest standard and contain various interesting one-off pieces of solid antique furniture, all chosen with impeccable taste.
The house boasts original wooden beams, granite work and fireplaces, a beautiful stained glass wooden door, and an extraordinary garden with a eucalyptus tree, pergola, courtyard, utility area, workshop and outhouse.
However, there is much to this fascinating property than meets the eye. The owners, Maya and Paul Hammarsal, are proactive environmentalists and have put an enormous amount of care and attention into the eco renovation of their home, ensuring that those living there tread lightly on the planet.  It is a ?transition? house, which means that it has been designed with Jersey?s environmental future in mind and to help reduce the island?s carbon footprint.
?We understand that issues around peak oil and climate change are going to have massive and far reaching impacts on the way people live in Jersey in the not-so-distant future. We have had the vision to prepare for the future in the eco-renovation of our house and we?ve installed technologies and systems that will ?cushion? the inhabitants against these changes. For example, we bought the house specifically because of its large walled garden so we have land to grow food. We installed alternative energy and energy conservation systems, and we chose the location as it is conveniently located close to everything and we don?t need to have a car. ?
?Our house is quite unique in all this, where else in Jersey would you find the same sort of thing?  We now have a wonderful house to live in that is very energy efficient, non-toxic and wonderfully located, but on top of that, it is prepared for the future.?
Maya and Paul, who are members of the Jersey Organic Association, bought Warwick House in 2003 and spent two years restoring it to its former glory.  The property was in need of complete renovation, including re-plumbing and re-wiring of electrics throughout, a new drainage system and a new roof for the kitchen extension. The chimney stack was rebuilt and relined, en-suite showers and a functional utility room installed, to increase the house?s U-value they used Warmcel insulation and Sempatap, an insulation/damp proofing material.
Maya and Paul used specialist eco-paint and environmentally friendly varnishes and finishes all over the house.  ?We looked to use as much recycled materials as possible within the renovation and the furnishing of the house.  It was galling to us to see the vast amount of perfectly good materials, furniture and stuff going to the incinerator or land fill site which could be reused within Island. We were also amazed at how much help we got from people who also baulked at the ?throw away society? that is Jersey, and were only too happy to donate items to us.  The manager from FJ Supplies, for example, had lived through the war years and hated to see waste. He donated all our wet system radiators for free in support of what we were doing here.?

As well as wet system radiators, the property also has solar panels installed on the roof which supply water heating to the ergonomically designed kitchen and utility room, and a Sunpipe which lights the top floor en-suite bedroom. Planning permission has also been passed for photovoltaics to be installed on the main roof but the Hammarsals have been unable install them because of issues surrounding the running of it.  ?We really need a ?green? electricity company to buy our energy during the day, while we?re producing it, and sell it back to us in the evenings when we most need it.  There are successful schemes like this in the UK manufacturing renewable electricity but unfortunately not in Jersey.  Our vision and planning is a bit ahead of the times for over here but we?re ready when they are.?
Maya and Paul have spent a colossal amount of time and energy into designing Warwick House and their dedication has proved especially rewarding. Not only can they be satisfied with the knowledge that they are helping to preserve the planet, but they also have the pleasure of living in a delightful home in a fortunate location. Living so close to all of the town centre?s amenities means that the Hammarsals can travel almost anywhere on foot, by bike or public transport.  ?Living at Warwick House enables you to choose whether or not you want to run a car.  That is a very liberating position to be in.  You don?t NEED a car here – you may want one but that is a different matter completely. We walk to and from work and return for lunch every day.  We?re either at home enjoying the garden with a glass of something five minutes after leaving work, or quickly picking up our towels and costumes and whizzing off to the beach on our bikes.?
Maya and Paul run their home as a guest house as they are eager to show other people that you don?t have suffer a poor quality of life to lead a greener existence, and they also enjoy promoting a vegetarian lifestyle.  ?The house is designed on permculture principles and we wanted to offer people the opportunity to experience that.  So many people think it is too hard to go green, that it will cost too much money, it won?t make a difference or it will impact on their quality of living.  We wanted to show that it is possible to have a very high standard of living whilst caring for the environment.?
Understandably, the couple are incredibly proud of their accomplishments, and have many favourite features and areas in the property. They both adore the wonderful stained glass panel in the door (which is second hand and recycled) and also the cedar roof over the original beams in the kitchen. In their bedroom they benefit from a striking skyline view over Fort Regent, and they can relax there gazing at the moon and stars at night.
Last, but most undeniably not least, is the enchanting garden area; with an array of unusual plants and wildlife, a 40 foot eucalyptus tree, a charming courtyard and a pond with a wall that was made with stones recycled from the garden, it is not difficult to see why Maya and Paul are in love with this special area.
?Everything about our philosophy in life, such as not wanting to exploit animals or treading heavily on the planet, is embedded in this house and what we have achieved here.  We have adopted a way of life that is holistic and which we feel is ethical and morally justifiable.  We hope by the example that we set, others will see that it is possible to change their habits and adopt a lifestyle that is more sustainable.?
Let?s hope that other people will be inspired by Maya and Paul?s remarkable efforts to preserve the environment in the renovation and upkeep of their home ? even the smallest of changes can make the world of difference.
Warwick House, Vauxhall Street, St Helier is on the market with Savills. Call 722227 for more information