Words: Imogen Pickering
I've always been intrigued by laser resurfacing, but have always attributed it to the likes of the Kardashian clan; an expensive treatment for those with more money than sense, with little noticeable results.
However, when I was invited by Joanna at the Dental Spa to test her new Cool Laser treatment, I jumped at the chance to see what it's all about. At twenty-six, I'm lucky enough to not yet have many of the unwanted skin concerns that the Cool Laser is able to treat, so I was interested to see how this celebrity-endorsed procedure could benefit me.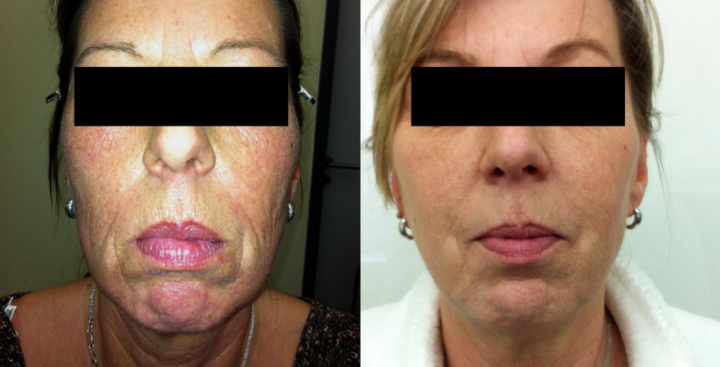 Often associated with the treatment of fine lines and wrinkles, dark circles and neck folds, the Cool Laser can also successfully treat acne scars, pigmentation, moles and stretch marks, whilst rejuvenating the collagen in the skin. Joanna professionally assessed my skin, which can often be pigmented with a couple of scars from my teenage years, before beginning the quick and effective procedure.
Using a series of light pulses, the Cool Laser uses fractional laser technology that removes unwanted epidermal cells, promoting the release of growth factors, stimulating both dermal and epidermal remodelling. Other than the slight warming sensation and sensitivity of the skin afterwards, the non-invasive procedure is virtually pain-free and can be completed during a lunch hour, with minimal downtime.
Joanna explained that optimal results occur within one to three months, after the body has
had time to develop new collagen and stimulate cell repair. Yet, I was fascinated to see the improvement in my skin's appearance after only a couple of hours. Within 3 days, my skin had a lovely velvet appearance, my pigmentation and scarring had vanished, and my skin was left with a clear, smooth and rejuvenated appearance that far exceeded my expectations.
Alongside the Cool Laser, the clinic has also recently introduced the Juliet Feminine Laser to their repertoire; a treatment for vaginal atrophy, stress urinary incontinence and dyspareunia. Suitable for women of all ages, the Juliet not only improves medical conditions, but also dramatically enhances intimacy experience, with clinically proven results in women who have recently given birth, are going through the menopause, or have undergone chemotherapy and/or surgery.
The gentle, minimally invasive and safe laser causes the generation of new collagen, new blood vessels and tightening of the existing collagen, causing the tissue under the surface of the vagina to thicken and tighten. Completed by a local gynecology consultant in less than 20 minutes, results normally occur within 72 hours, with many patients only requiring one single treatment.
If you would like to discuss the Cool Laser or the Juliet Laser further, please contact Joanna and her specialist team at the Dental Spa on 01534 759599 and give your skin a new lease of life with laser treatment.  
Cool Laser introductory offer: £180 normally £250