When you work in the creative industries, your workplace is more than the desk you sit at, it's a creative space that both facilitates and inspires your work in a more integrated way, whether providing a (literal) backdrop or allowing configuration for a particular task or creation. Lights, booms, props, shots and a smattering of personal items create unique environments that promote creation and creativity. Lockdown saw big changes for many creatives and several were displaced and seeking new homes. Last month we got a few invites to visit studios so thought we'd share some snapshots of the photographers and videographers who exist in the hidden spaces of St Helier, crafting their art.
Cameron Aird. Cameron Aird Photography
Over the course of this year, Cameron has been going through some changes in terms of what he likes to shoot and capture – remembering his love for what once was a 'so-called hobby' and is now his job; "Where 80% of my work is primarily video, shooting videos for businesses, brands and individuals. I also like to interact and capture individuals in the studio to really shine a light on them and their personalities". Having recently moved into his space in June this year, he's invited everyone (despite not even knowing you have the potential to model) to step out their comfort zone and give something new a try when they visit him in the space, "We are all unique in some kind of way and it's important to highlight this". cameronaird.com
---
Danny Evans. DEP Studios
Danny has been in his current studio for 12 years, yet curates it as a unique space in which to work every day. He tells us "it's become an extension of me". The naturally-lit studio space is packed with top-of-range gear and also includes a changing room and full make-up and hair facilities. Clients are also encouraged to grab a coffee and peruse Danny's vast library of photography, fashion and art books. In addition to being the fashion photographer in Jersey for two decades, he covers a breadth of subjects, " I like to work on things that are complex and creative, from extensive set builds to close-up jewellery work". Danny's passion drives him to "continuously learn and push what is possible by leveraging new technologies to produce out-of-the-box experiential content and the never-seen-before". depstudios.com
---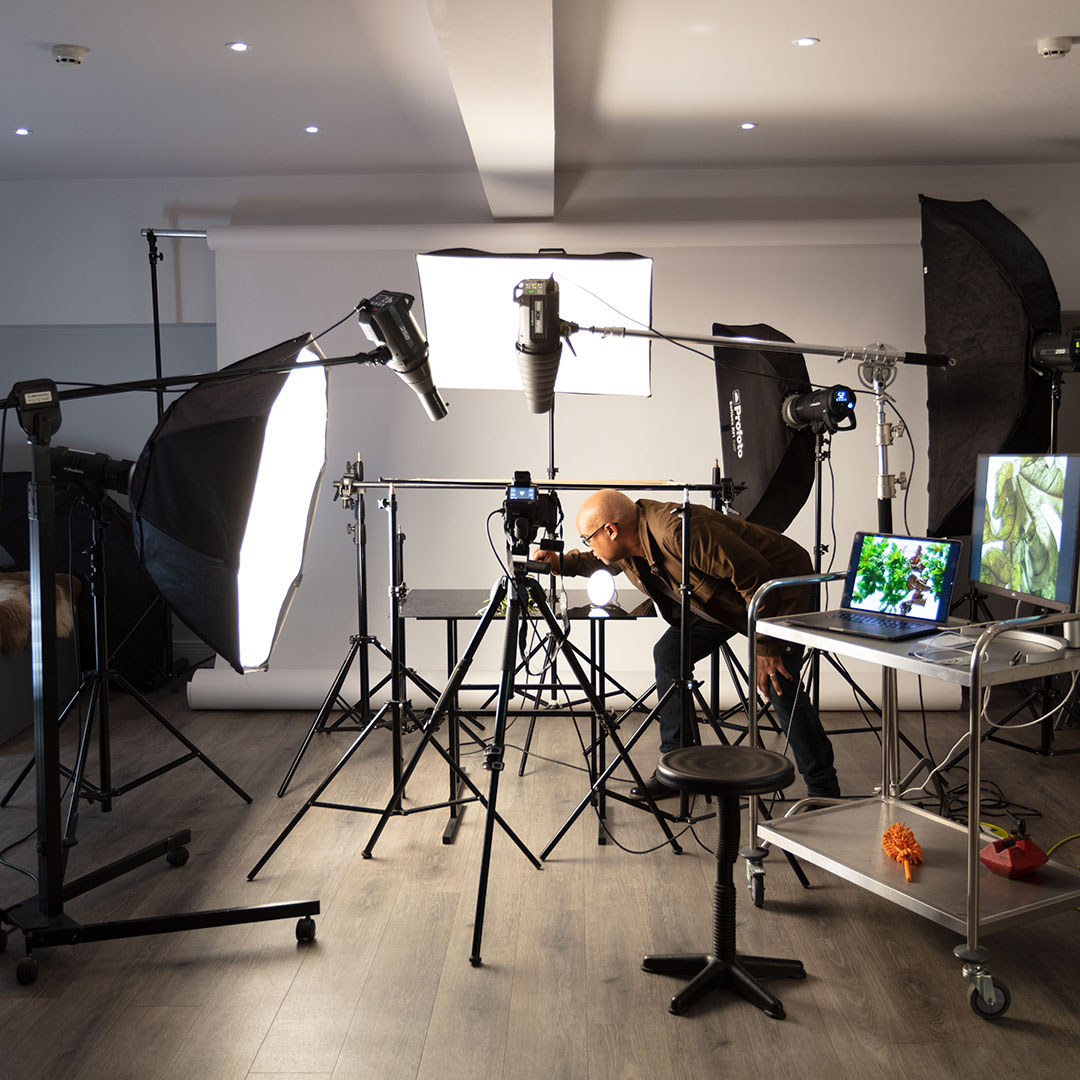 Glen Perotte. Glen Perotte Photography
Glen spent most of his life living in two of the busiest cities in the world, New York and London. Maybe that's why when he moved to Jersey, he set up his studio on King St, the busiest street on the island – to feel at home. As a result, he enjoys the best of both worlds, a quiet space within a bustling environment. He spends his time split between commercial photography and creative work; "On the island, I have the privilege of meeting and photographing many interesting and wonderful people every day. When I am not doing that, I immerse myself in my creative work. That's what motivates me and drives my passion. I'm constantly experimenting with new technologies and seeking out new approaches to image making. My next project does exactly that – watch this space". glenperotte.com
---
Max Burnett. Max Burnett Photography
"It's taken me a long time to settle within a studio space, and it's still an ongoing search for the right spot. The space I have at the moment is quite raw and unassuming, a work in progress". Max tells us that, as a portrait photographer, you don't need much to create interesting work. A portrait session, for him, is more about the customer experience than coming away with an award-winning shot, "Building trust and engaging conversation from the offset is a must to allow people to reveal their true character in front of the lens. I think it's important to stop and take a snapshot of yourself wherever you are in life, as some of the greatest lessons are learnt within reflection of your own journey, acknowledging where you've been, so you know where you're heading".
---
Oliver Doran. Oliver Doran
In the past Oliver has photographed big names and campaigns but his passion now is photographing people, "I celebrate uniqueness and individuality. My focus is on portraits of the everyday person. Everyone has a story to tell, and I love to connect with people and capture their essence through my lens". For the most part of 2022 he has been photographing ladies in their 40's, 50's, 60's, 70's and beyond as part of his '40 over 40' exhibition'. "All my portrait sittings are more than just taking pretty pictures. They are about celebrating life and legacy. My studio is eclectic, welcoming, and comfortable. The coffee machines always on, so if the doors open when you're passing by, feel free to pop in". oliverdoran.com
---
Ollie Jones & Matt Sharp . Wharf Studios
Earlier this year Ollie and Matt joined forces to launch a brand new space, Wharf Studio. Both lovers of natural light, the pair decided that having a studio space with lots of it was a priority. Being close to the sea was also key for them both, as many of their personal projects and hobbies revolve around it. Ollie recently shot local surfers as an ongoing personal project whilst Matt can normally be found shooting on the deck of a boat or in the water. Their studio facilitates this with its beautiful views over Saint Helier Harbour, exuding an effortless, relaxed vibe. Their ethos is "Natural imagery speaks for itself and have a laugh along the way" wharf.studio
---
Phil Slatter. Reel Creative
Phil wanted a studio that was versatile, to accommodate a variety of clients' needs without needing to start from scratch on every shoot. "The Reel Studio is currently being used for video podcasts, product commercials, presentations and YouTube channels. The space has multiple configurations, with screens, furniture and backdrops all customisable to create different vibes, depending on the content being captured". Phil has made it a creative environment and one to hang out in, as some clients produce content in batches, spending a full day there every month. The space is equipped with 6k cameras, motorised sliders and "live switching capability" with high-end microphones and lighting, He tells us "The technology I've invested in makes us more efficient in editing". Sounds good.