Kay Le Seelleur Ara is one of Jersey's leading contemporary artists whose provocative and visionary paintings have won awards over several decades. Wednesday 19 July sees the opening of her latest exhibition at ArtHouse Jersey at Capital House, 'Mrs Magnitude's Emporium'. It promises to be a mesmerising solo exhibition of her recent paintings, curated in collaboration with conceptual artist Rachel Ara taking, with the starting point for the show taking favourite images from Kay's Instagram followers. 
Visitors can expect a fun and wild journey into the brilliantly inventive, sharp humour and gender politics of this significant artist and her extraordinary body of work. The show will feature hundreds of original works of art, paintings and drawings made over the last couple of years in a unique and inviting setting styled in the theme of one of the Royal Academy of Arts rooms for Academicians. It promises to inspire a sense of awe and immersion for the viewer entering the space, while the surrealist nature of the work makes it playful and unintimidating. We caught up with Kay Le Seelleur Ara to learn more about her background, her work and what we can expect from her upcoming exhibition in July
Hi Kay. Can you tell us a little bit about your artistic background, beginning with where and who you trained with?
I've enjoyed drawing for as long as I can remember. From the age of four I can remember drawing chickens. I remember I wanted to draw the Virgin Mary with Angles when I was at FCJ and Mother Carmel told me I wasn't good enough to draw her. In a sense I'm still trying to do that painting today
I attended Bath Academy of Art in the late 50s to early 60s. It was probably the most 'happening' Art College at the time, and had 4 fantastic years. We were privileged to have such high calibre tutors such as Howard Hodgkin, Willian Scott and Gillian Ayers. I really started drawing again in earnest after I broke my hip in 2017. I couldn't garden, do walks or concentrate on reading, so I just drew and painted and it became an obsession.
I've heard you have a very rigorous studio routine, tell us more?
I wake up at 6am every morning and post my first cat picture on @mrs_magnitude at 6:15. It's usually the drawing I've done the day before. At  breakfast I have a pad of paper on the table where I do some more drawings. I then go to the living room and do a cat cartoon by 11am.  I then go upstairs to my studio and work till 12:45.  After lunch I'm back in the studio from 2:15 to 5pm. I then go back to the living room, have a large brandy and scroll through my IG feed. I do my best work when I'm plastered. Every 5 days I post a drawing to @kays_telly_doodles and a painting to @kay_leseelleur.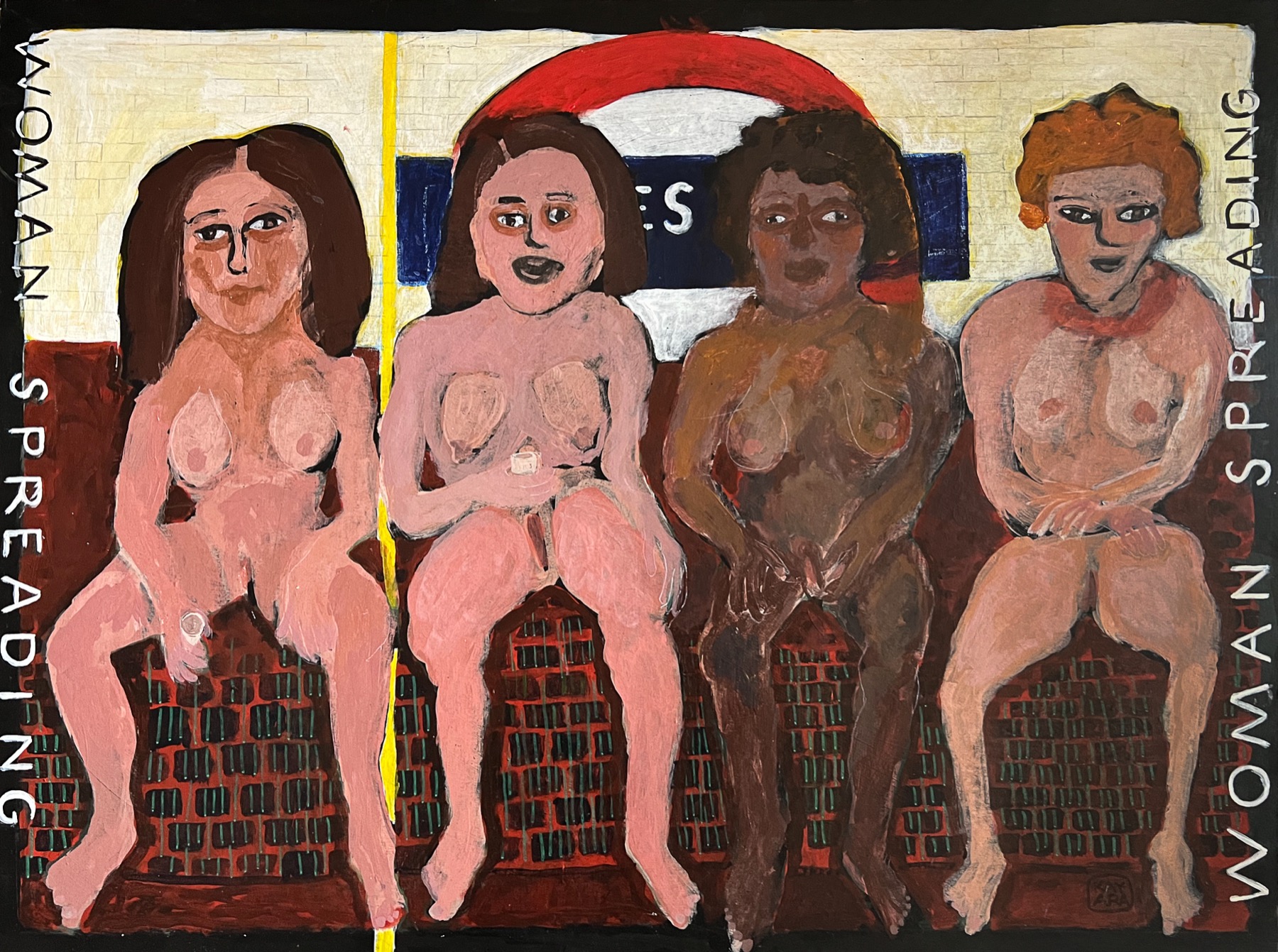 Your upcoming exhibition Mrs Magnitudes Emporium is described as an immersive journey into the world of Kay LeSeelleur Ara. Tell us a little about the show?
It's a selection of all the work I've done over the last 4 years. The gallery will be split into 3 main areas, one with all my paintings, about 200, one with drawings and Mrs Magnitudes small room at the end where you can view the catorium.
Who is Mrs Magnitude?
She's a slightly deranged old lady who lives in her skyparlour – often she visualises herself as a cat. The name just materialised out of the blue and it just sounded right. It then became the name of a new Instagram account where I post daily cat cartoons.
Kay Le Seelleur Ara: Mrs Magnitude's Emporium runs between 19 July – 20 August 2023 at ArtHouse Jersey at Capital House, 8 Church Street, St Helier. Free entry with opening hours Tuesday to Saturday 10.30am to 6pm/5pm close on Sundays/closed Mondays.
@mrs_magnitude, @kays_telly_doodles and @kay_leseelleur