Next month Archisle: The Jersey Contemporary Photography Programme, hosted by the Société Jersiaise, will be bringing a European Premiere of a New Exhibition to CCA International. Entre Nous: Claude Cahun and Clare Rae brings together photographs by the French artist Claude Cahun (1894-1954) and Australian contemporary artist Clare Rae in an exhibition that reflects a dialogue between two performative photographic practices created some 70 years apart.
Since the posthumous rediscovery of her photographs in the 1980s Claude Cahun has acquired cult status among artists dealing with issues of gender, identity and self-representation. Cahun is best known for the radical self-portraits she produced, in collaboration with her partner Marcel Moore, against a backdrop of the 1920s Parisian avant-garde. In 1937 the pair moved to Jersey, attempting to escape the threat of Nazism (Cahun's family were Jewish). Here the island's coast and landscape were assimilated into a private archive of photographs figuring Cahun in a compelling mix of overtly performative, vernacular and domestic modes and contexts. After Moore's death in 1972, Cahun's estate, including the photographs, was sold at a local auction house. Many of these photographs were later acquired by Jersey Heritage who now hold largest collection of Cahun works in the world. The dissemination of the Cahun archive has had a significant impact on the international art scene and has drawn artists, curators and researchers to Jersey to view her photographs.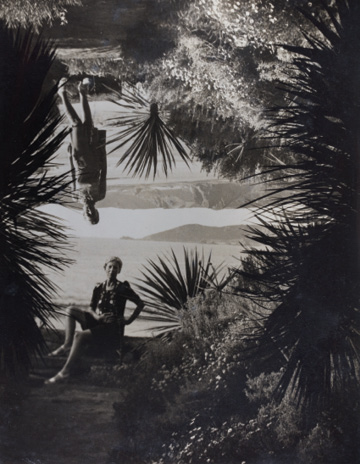 Clare Rae is an artist based in Melbourne, Australia. In her photographic practice Rae explores ideas of performance and gesture to interrogate and subvert dominant modes of representation. Her work is informed by feminist theory, and presents an alternate and often awkward experience of subjectivity and the female body. In 2017 Rae undertook an artist's residency with Archisle: The Jersey Contemporary Photography Programme to research the Cahun archive. In Jersey she produced new photographs responding to the archive and the sites inhabited and imaged by Cahun and Moore on the island. The resulting series of images titled Never standing on two feet was produced in locations that in some cases echo those chosen by Cahun – across a temporal space of 70 years – while elsewhere they are the product of Rae's own discovery. Extending a recursive practice of bodily engagement with institutional architectures, a number of these photographs explore the reading rooms and storage stacks at Jersey Archive where Cahun's photographs are preserved and accessed today.
Entre Nous includes a series of Cahun photographs selected from the archive by Rae, alongside the artist's contemporary works produced in Jersey in 2017. The Jersey exhibition follows its first showing at the Centre for Contemporary Photography, Melbourne from March – May 2018. Talking about the project Rae says: 'My series, Never standing on two feet, considers Cahun's engagement with the physical and cultural landscapes of Jersey, an aspect of her work that has received little analysis to date. The photographs Cahun produced in Jersey are intimate. They explore ideas of self within the immediate environment and were produced in collaboration with her lover, Marcel Moore. Many threads of inquiry emerged for me while viewing the archive: Cahun's performative photographic gestures; the nature of photographic performance for a lover; and the repercussions of imaging a woman's body aging over time, to name a few.
Like Cahun's, my photographs depict my body in relation to place; in these instances sites of coastal geography and Jersey's Neolithic ritual monuments among others. I enact a visual dialogue between the body and these environments, and test how their photographic histories impact upon contemporary engagements. Cahun used self-portraiture to subvert the dominance of the male gaze in photographic depictions of the female body in the landscape. My practice is invested in the feminist act of self-representation and I draw parallels between my performances of an expanding vocabulary of gesture and Cahun's overtly performative images of the body expressing a multiplicity of identity. In this series, I tease out the interpretations inherent in landscape photography. I utilise gesture and the performing body to contrast and unsettle traditional representations of the female figure in the landscape.'
To coincide with the exhibition an extended series of Rae's Never standing on two feet has been published as a photobook by Perimeter Editions. The book features a foreword by the celebrated curator Susan Bright and an essay by Archisle Project Leader and Société Jersiaise Photographic Archivist, Gareth Syvret. Copies will be on sale throughout the exhibition and the artist will be present for a special book signing at the preview on Friday 7 September.
The exhibition Entre Nous: Claude Cahun and Clare Rae will be showing at CCA Galleries International, St Helier, Jersey from 7 – 28 September 2018. Images courtesy of the Jersey Heritage Collections and Archive