Forget one dimensional art, here you'll find an insight into some of the most iconic three dimensional structures known to man, many of which stand taller than 80 feet! Artists are no longer confined to the boundaries of a canvas, choosing to transform the perception of space instead. From disparate items that evoke complex moods, longings and thoughts to a bewildering variety of materials, interactive art is continuing to blur the boundaries between the surreal and the real.
Paris
Ron mueck's extraordinary hyperrealist sculptures
The foundation cartier pour l'art contemporain is currently showcasing ron mueck's first major exhibition in seven years. Said to feature a number of seminal works as well as various new pieces, his most striking sculpture takes pride of place in the maple glass foyer of the jean nouvel-designed building. Its sheer scale is astounding in itself, whilst the detail applied to his work is fascinating and unbelievably realistic. Even close up, each figure boasts a series of painstaking details including body hair, facial blemishes and handmade clothes. Displaying until september 29th.
Versailles
Balloon dog
Jeff Koons, an artist you either love or hate. To the horror, delight and uproar of the surrounding community, he instated a larger than life, reflective porcelain dog in Chateau de Versailles. Decidedly avoiding the 'cool' status, Koon still boasts some of the most influential installations to date. You may be wondering why two larger-than-life 'balloon dog' sculptures feature on the list? Over his three-decade career, Koons has been sued for copyright violation a total of four times. The tables have now turned and the pop-culture phenomenon is threatening all who dare to use his work as inspiration – we wonder if he'll be going after the party clowns too!
London
The rain room at The barbican
 Ever wondered how it might feel to control the rain? Created by the contemporary art group Random International, the Rain Room, which ran until March 2013, was an installation like no other. The best part? The cleverly installed sensors that allowed spectators to sidestep hundreds upon thousands of falling droplets.
Venice
Church of san stae falling garden by gerda steiner & jorg lenzlinger
Imagine staring up at a beautiful church ceiling that also happens to have a scenic garden hanging from its realms? Well now you can – this astounding installation created by Swiss artists Gerda Steiner and Jorg Lenzlinger drapes from the ceiling of the Church of San Stae, and was originally created for the 50th Venice Biennial.
Dusseldorf
The hanging gardens of dusseldorf
Three long years and three-tonnes of netting later – Argentine artist Tomas Saraceno has finally completed the much-anticipated Hanging Gardens of Dusseldorf. Aptly named 'in orbit' this 2500-square metre installation boasts various gigantic air-filled PVC balls that can hold up to ten people at one time.
Wuhan
An animal zoo made out of louis vuitton handbags
Fashion can be adventurous at the best of times, with many designers choosing to create statement clobber in hot hues, outrageous materials and OTT styles. One week we'll spot models cartwheeling down the catwalk and the next, donning outlandish masks. Louis Vuitton, a brand to watch – when other designers are walking, they're running! In response to a store opening at the Wuhan International Plaza in Central China's Hubei province, an entire animal zoo was erected, with many of the sculptures comprising of almost 100 Louis Vuitton handbags each!
Venice
Spiral of galaxy at the cine foundation
Standing at 333 centimetres high, this epic bronze sculpture is one of Marc Quinn's greatest and most significant pieces to date. Notorious for his controversial work, including the famous gold statue of supermodel Kate Moss and a replica of his head created from his very own blood, this bronze shell may seem a little on the tame side. However, it marks the return of Quinn to Venice and highlights his ever-growing passion for contemporary art.
Hong kong
Industrial forest by eskyiu
This non-profit art space comprises of hundreds of 4-metre-high, pin-thin filaments, which interact with spectators by bending towards them. These aluminium strands take centre stage on a raised highway terrace in the Wong Chuk Hang district of Hong Kong. Created as a resonance of the yellow bamboo that once thrived in the area, this interactive forest is set to evolve even more so in the future, comprising of sound components, herbal gardens, sensors and artificial grass.
Houston
Chain link fencing as art
This glistening abstract installation was laborious to install, yet well worth the wait. The end result – a total of 37 individual units created out of a luminous chain linking. This sculptural masterpiece by the artist Soo Sunny Park focuses predominantly on light. As you walk from one end to the other, the iridescent Plexiglas releases a rainbow of colours.
Singapore
Singapore tower complex
Singapore regularly ranks as one of Asia's more habitable cities, yet individual, high-rise and isolated towers progressively dominate it. Such constructions tend to favour exclusion over societal connectivity. This was the case until the Singapore Tower Complex was erected. Consisting of half hanging garden, half glass block, it currently stands as an exemplary model for urban architecture in the 21st century.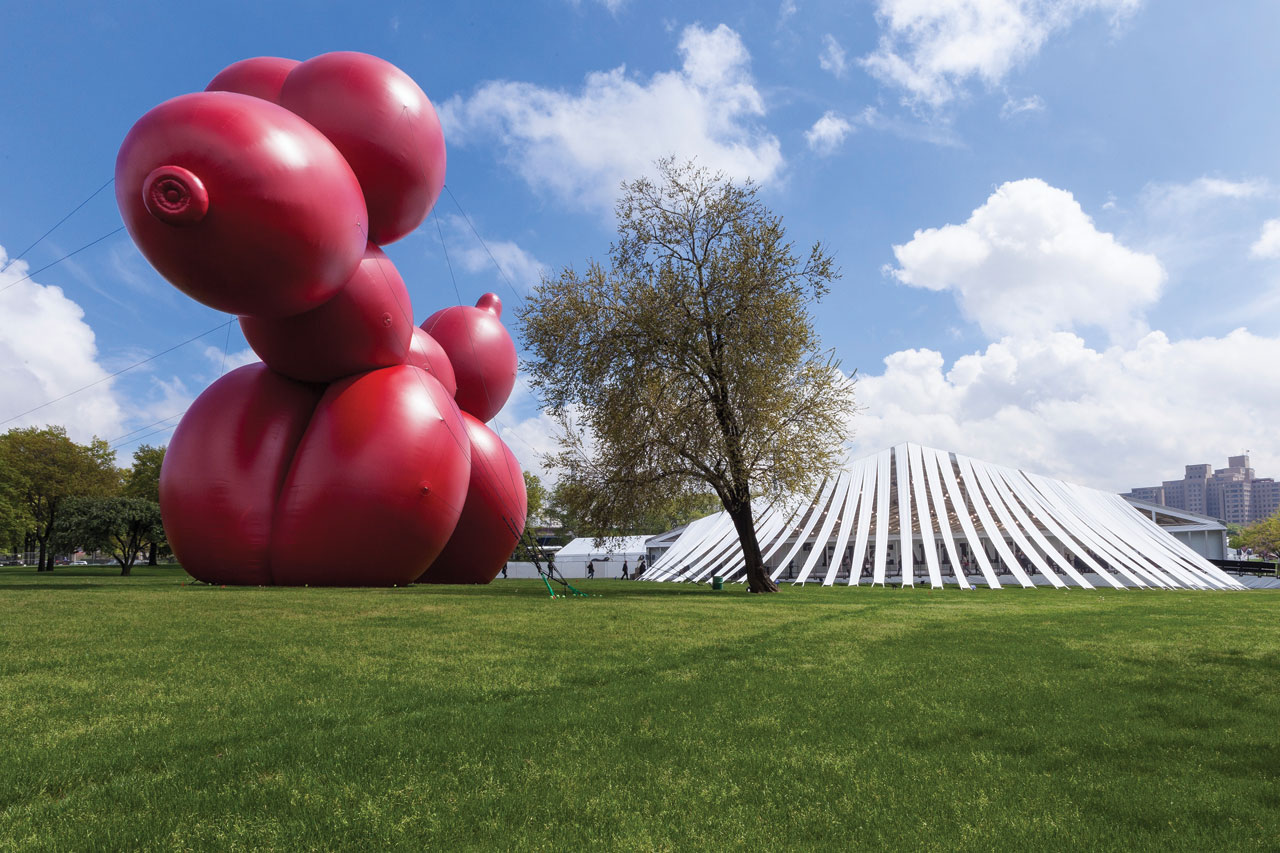 New york
Balloon dog frieze new york sculpture park
Every dog has its day and this is certainly the case for Paul McCarthy's 80-foot Balloon sculpture. McCarthy, who appears to have jumped on the anti-koons bandwagon, is renowned for blurring the lines between desire and reality, and anyone to stumble upon this whimsical sculpture would see why. The whacky installation has reportedly sold for an amount not far from one million pounds.