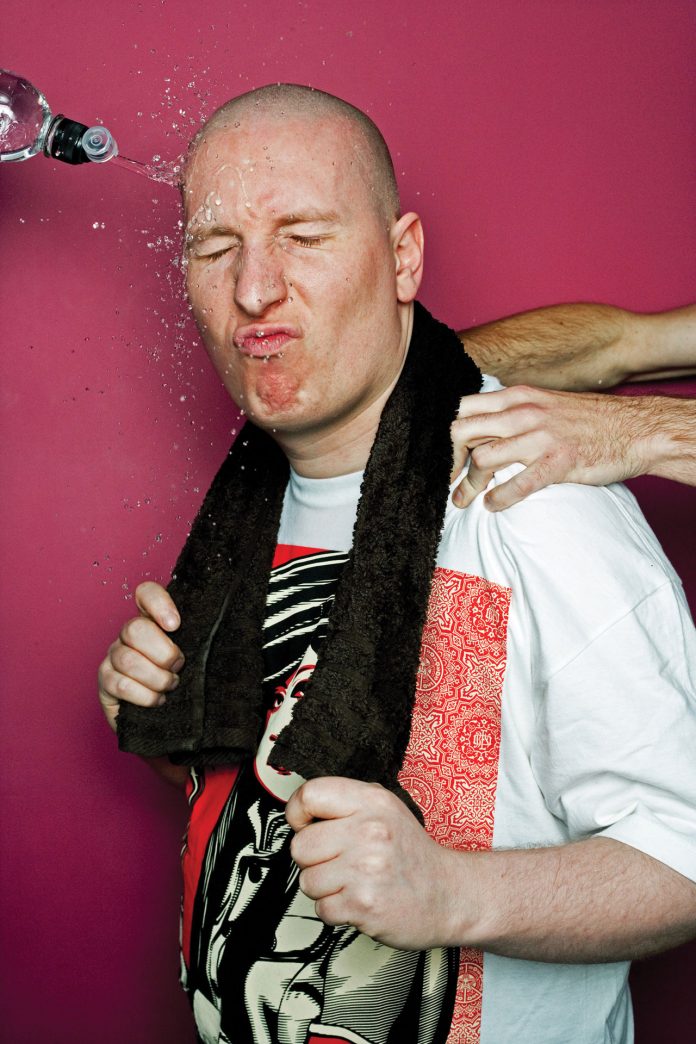 Local D&B party-starters Chaka return after the huge success of their 'Blkout' event at Fort Regent earlier this year, with a Christmas party at the Havana, and their headliner is one with a proven track record of rocking the socks off Jersey's dancefloors. Drum n' bass kingpin Danny Byrd will take to the decks on December 21st, and caught up with Gallery to give us a clue as to what he's got up his sleeves…
This'll be your third time playing in Jersey, after the last Chaka event and of course Jersey Live – what are your experiences of your previous visits? Well I never knew what to expect coming to Jersey, but Jersey Live was such a fantastic show and so much energy so I wasn't surprised when I came back for the last Chaka event. I really can't wait to come back especially as it will be like a mini Christmas warm up – I like a festive gig! Ha… in fact the only things I don't like about Jersey are the small propeller planes! I hate flying! No wild after parties from what I remember but there's always December!
You've played in some huge venues and festival arenas, so your gig at the Havana, with a capacity of 350, is a relatively intimate one. Do you approach these gigs differently, and is it more or less challenging than performing to a huge crowd? I'd say they are about the same; I do prefer the more intimate shows for sure. The vibes are better as it's more compact and you can deviate and not play so many 'festival bangers' but I always try to bring a good party atmosphere where I play so it's not too different really. The only thing that puts me off is if the front of the crowd are right by the decks as I get paranoid someone will unplug the mixer or something which has happened a few times, but yes, Havana is a wicked venue to play in.
Do you prefer the thrill of being on the road or do you get more satisfaction from knuckling down in the studio and being rooted to one place? Well last year I took six months off DJ-ing to focus on the studio and I found I wasn't as productive as I thought I would have been, and I realised that the two go hand in hand. It's good to have a forced exile from the studio every weekend and keeps you inspired and wanted to get back in there, opposed to having freedom in the studio 24/7, which actually can paralyse the creativity sometimes.
When you're in the studio, how long do you tend to spend on a track? Do you consider yourself a perfectionist? There are stories of people like Giorgio Moroder spending literally just hours on certain tracks before moving on to the next thing… Yeah I'm pretty OCD with it. Sometimes remixes have to be finished quickly so they get turned around in a week but if you're doing something from scratch and recording vocals etcetera, it's not uncommon to take a couple of months on and off. Making D&B is quite complex music and requires a lot of effort to get things sounding as you'd expect them to but then I think I enjoy the challenge at the same time.
I imagine the day-to-day life of a touring DJ, by most people's standards, is pretty exciting, but I suppose it all eventually becomes something of a routine. However, when was the last time you had to pinch yourself and think, "wow, this is really my job"? The routine part of it is the travel and I think that blocks the appreciation of the situation you're in sometimes. I mean for most people the worst part of a holiday is the getting there and the going home, but as a DJ you'll do that in a 24 hour period in a weekend and on about three hours sleep too. Saying that, I'm always thankful to be doing what I'm doing. I think the really 'wow' periods are when you get to go to places like Australia, or I remember playing Dallas, Texas, and when I was younger was interested in the JFK assassination, so actually got to visit that site. It's crazy when music takes you to these places you wouldn't normally have travelled to.
You've been producing for a long time now – how has your approach, and your sound evolved over that period? I think when you start out you're just making tracks for the clubs and then you start to record a few vocals and then instruments, and then years later you work out that you're quite a experienced producer that could record a orchestra if you put your mind to it rather just being a kid making underground music in their bedroom. It's always evolving but I'm glad dance music producers are having the respect they deserve these days.
What's on your record player at the moment? I really like a band called Fryars at the moment, and I also like the new Eminem album, which I bought last week – and the new Sub Focus album too.
What's your new year's resolution? Ahhh, I don't really have one. I try to remain focused regardless of a date change, but I guess I'm trying to build a house in Bristol at the moment and would like to try and get that rolling and completed in 2014 if I can…
What would be your ideal gift this Christmas? A 007 box set – not that they are not on Sky enough as it is mind!
What's in the pipeline for you? I'm excited to be going to Australia and New Zealand for a Hospitality tour for the New Year period. I have some garage remixes from legend Wookie and Majestic of my Golden Ticket album coming out in December and by the time you read this I will be dropping a free bootleg album on my Facebook fan page… Facebook.com/dannybyrddnb.
Danny Byrd headlines Chaka's 'Christmas Mashup' at the Havana on Saturday 21st December. Tickets are £10 from White Label Records.