"You can't just eat good food.
You've got to talk about it too."
Kurt Vonnegut
A visit to St Aubin is always a pleasure. Every time I'm there I'm can almost guarantee to please 3 or 4 out of my 5 senses. Whether it's just enjoying the gentle rocking and chiming of sailboats in the breeze or smelling the delights of each restaurant and pub as you walk from the bus stop to the pier. Yes, St Aubin has it all…
Well, at least it did.
In 2013 Shapla Indian restaurant closed its doors and was re-opened not long after as 'The Spice House'. The boat house group had taken over the Indian food hotspot that was so popular with locals and tourists alike. 'The Spice House' opened to some popularity, unfortunately, it never sparked the same pleasurable dining experience, at least, not for me.
There seems to be some affinity with St Aubin's and Indian cuisine. At least one Indian restaurant must exist within this mini-parish, otherwise there would be outrage in the cobbled street. Luckily, now that 'The Spice House' has met its demise, another purveyor of the curry has flung open its doors to the starving masses. Noya Shapla is the brain child of Mr Joe Miah, a man that learned from his father's once successful business that Jersey needs a traditional Asian restaurant outside of town that isn't just food served in sugar sauce.
I think its accepted that in today's modern culture, family-run and owned businesses are somehow worthier of your money than chain restaurants, corporate creations and franchised shop fronts; and Noya Shapla is proof that this is true. The restaurant isn't littered with merchandise, logos or any other tat that can be found in some other Island establishments. From the moment you walk into this refurbished NatWest Bank you feel that you are discovering something that is both new and exciting. The bright and modern interior has been honestly thought through and works to create a dining environment that is comfortable yet feels exclusive.
I arrived at Noya Shapla on a Wednesday evening. I had not booked. I was under the impression that 'Who would need a booking at 7:30pm on a Wednesday evening?' Well, I was wrong. We were lucky to get a table, and that's only because I pleaded with the staff to find me something for 2 and that we would be in-and-out. We were dutifully lead to our table, a table that was, for me, uncomfortably close to the toilets. But what's that old phrase about beggars and choosers? Oh yes, 'You'll get what you're given'. I was in no position to argue, after all they were accommodating me due to my own bad planning, and they were kind enough to do so.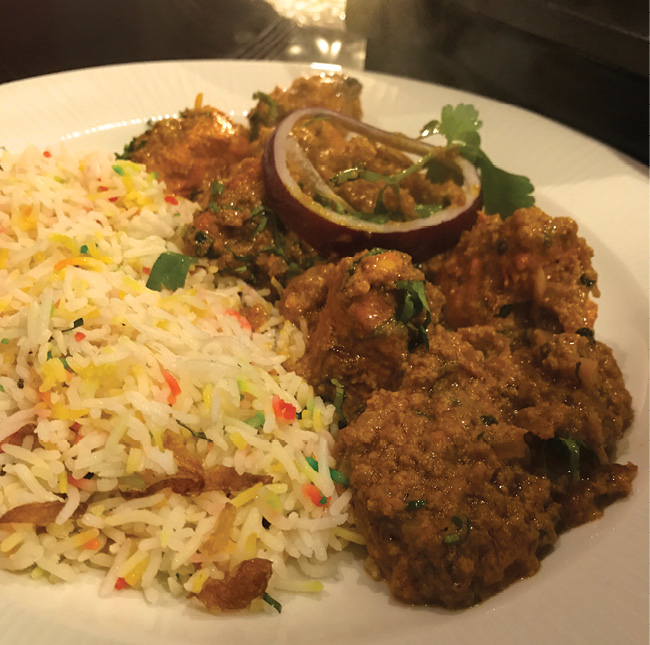 Although our previously mentioned table position did put us in the path of many clients that might have had one too many Cobra-beers, we were also in the path of food leaving the kitchen. This was fine by me.
The way that food arrives at tables in Noya Shapla is something I found extremely novel. A silver trolley is pushed through a 2-way swinging door, laden with spicy smelling dishes and sizzling pans. This gave me a wonderful opportunity to eye up and smell everyone else's dinners as they passed me by.
To call this restaurant a 'curry house' is to do it a disservice, as it is so much more. Although, you will find regular Indian & Bangladeshi favourites such as the Madras, the menu offers a varied approach to this style of cuisine.
For starters, we opted to try three dishes. The Onion Bahji, I think it would be stupid to try out a new Indian restaurant without seeing how they serve the staple dishes. The mixed kebab, consisting of Chicken Tikka, Spiced Lamb & Lamb Kofta and then the Special Samosa, which was filled with chicken, lamb, cheese and potato. All three were spectacular. The Bahji, humble though it may be, can often suffer from being either stodgy or too crispy, but this one… was a perfect medium and spiced as you would hope. The mixed grill, which was brought out to the table on a sizzling dish and then served to my plate by a waiter, was moist, flavourful and left me just wishing I had just ordered 4 portions of that to myself. The special samosa lived up to its namesake. Now, I'm a fan of samosas, I'll always add one to an order when getting a takeaway, but this one was different. It contained flavours that I'm quite sure I've never tasted before despite clearly having eaten the ingredients, this spice work was one of love and talent.
Whisked away were the starter plates, whilst I sat and enjoyed a comically large beer* as I often do in Asian restaurants.
For the main course, my adventurous dining partner opted for the Chicken Korma, whilst I ordered the Jall Jall Naga – Noya Special. This consisted of marinated chicken breast cooked with lamb mince, onion, naga chilli, peppers, fresh tomatoes and just a touch of cream. As previously mentioned, I think it is important that the staple dishes are tasted, and clearly this is a chef that can make the (almond) nuts off of a Korma. It was creamy, nutty and the meat was just excellent. As for my Jall Jall Naga, once again I was stumped. I had never really tried anything like this. The sauce was made up of soft lamb mince, similar to that of a ragu, it coated the spiced chicken and had the most amazing texture paired with a pleasant zing. There was a small amount of spice which I assume was dulled by the tomatoes and cream, but – what a flavour!
I will be going back to Noya Shapla. Who knows, I might even be there now, whilst you're reading this, just sat in a corner with a big beer in one hand and a snapped poppadum in the other! This is because, unlike most of my trips to St Aubin, all 5 of my senses were working at Noya Shapla, and all 5 were delighted.