Who knew…?! The glitz and glam of roller skating comes with its fair share of thrill seeking, adventure and a whole heap of teamwork. The girls at Regent Skating Club invited Gallery up to the Fort to find out all about the rhinestone sparkly, all round sport that is seeing a huge rise in popularity in Jersey.
The first thing that's apparent as you join the ranks of parents and spectators beside the rink, is the camaraderie that extends way beyond the team. The Regent Skating members and their families are all very much part of the goings on and all the mums (and dads!) are a dab hand with a glue gun. There's a role for everyone, from driving, to chaperoning, making teas and coffees and helping with make up and styling – the meticulous attention to detail and dedication to their club is obvious on this wet Sunday morning, as all the skaters have shown up in their very finest costumes and with hair and make up that would put Cheryl Cole in the corner.
All that said, skating is certainly not just a girls' sport. There are tonnes of chaps of all ages taking part and getting their skates on, but it so happened that we got to meet the squad of Regent Skating Club, which currently consists of a team of awesome girls and young women. From the tinniest (Hannah who is only just 10 years old), to the teenagers who take part and also assist in coaching the younger members. The sense of girl power and genuine love and friendliness is at Regent Skating Club in abundance.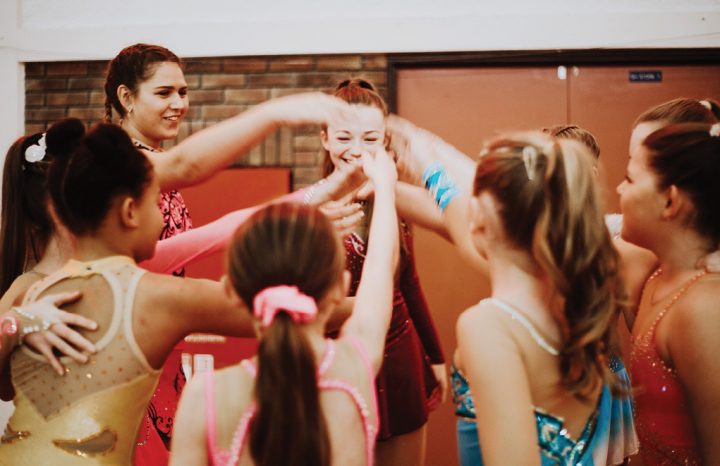 Sasha Baker, one of the lead coaches of Regent, told Gallery about the recent surge in numbers for what she dubs 'The Older Rollers,' the mature skaters, some of whom skated throughout their childhood, gave up and now have had the urge to return. Regent welcomes all ages and abilities to the sport and grades and competitions can all be part of the experience, no matter what age you are.
As the girls took to the floor and practiced some of their 'warm up' – not for the faint hearted, this warm up looked to us to be more like one of the show stoppers on Dancing on Ice (but of course, on wheels instead). As a couple of the girls gracefully glided past, to our right a team of four, hoisted one of the girls up into the air and they zoomed along as though made up from one strong unit… These dainty looking girls have the strength and stamina of any athlete. A flutter of shiny fabric and a bedazzled flash from the 1000+ rhinestones (per outfit!), made for quite the Sunday spectacle. These kids are strong, powerful and adventurous young ladies with serious skills and no fear whatsoever (aside from the odd pang of nerves before competitions).
We asked some of the girls to tell us what they love about skating and their Club, overall, the fact that they're a team and all support each other was the unison response – these girl have formed friendships that go beyond their schools and age groups; its like a family and in amongst the support there is still the odd funny quip and joke about who skated over whose fingers and who made one of the girls cry when doing her hair, someone pinched anothers' tights and so on – basically these girls are like sisters.
Evie Winter (11), said how she loves the fact that skating is like gymnastics, travel, dancing and danger all rolled into one (excuse the pun). Young Sophie Baker, adorned in the most unbelievable costume, explained how she loves all her friends at club and that the tricks and danger are all very much part of the fun, although sometimes she doesn't even know where bruises come from – but then, Sophie is one of the squad members who gets lifted and flung up into the air during some of the routines, so any wonder really!
All of the girls (even the most experienced) said that nerves are one thing that they all content with. Good job they're on wheels as it sometimes takes a gentle push from Sasha or Keilah (the other lead coach at Regent) to get the girls reared up and ready to go. Alongside the obvious camaraderie, confidence is given a proper boost and self-esteem and satisfaction are all part of the reward for these young skaters.
One of the mums explained how off-island competitions work – the long hours and waiting and the need to be on hand with hairspray at all times. Unlike the stereotypical 'Dance Mums' set up, where you can feel the tension as parents compete, the mums and dads at Regent Skating Club were all pals themselves. Each of them there to support and help in any way they can. Kiana's dad even takes professional style photos of the team at competitions – good job too as 15 year old Kiana has travelled as far afield as Italy in skating competitions for the Club.
Competitions and trips include many jaunts over to the UK, where long days and lots of hard work and effort brings the whole team together. The girls always insist on staying from the 7am start to the often 8pm finish, so as not to miss anyone of their friends competing.
They have their own special team call and kind of pep up that they all do to battle the nerves and get geared up to do well. Let us tell you, they make some noise from those wheels of theirs when sending out the 'Flama Call' to their fellow team mates – we even felt like getting our skates on and joining in!
Roller skating has a lot more to it than might first meet the eye and if teamwork, healthy competition, glamour, danger and friendship is something you look for in a sport, then really… look no further.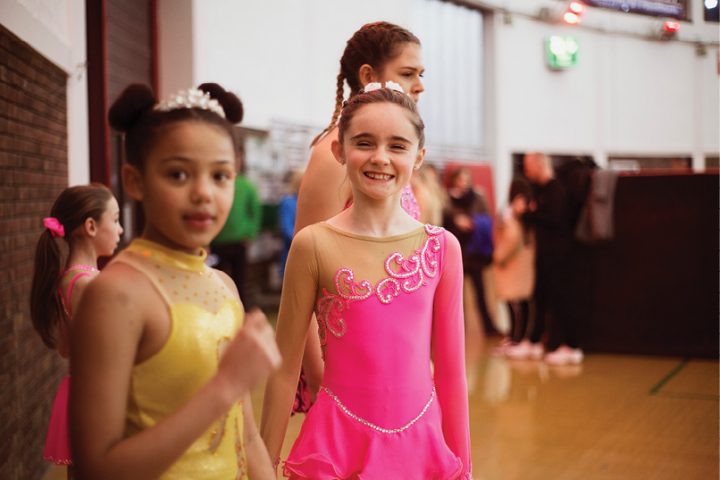 If you'd like to find out more about Regent Skating Club all you need to do is head over to their site or email their secretary to find out how to enrol-lerskate.
www.regentskatingclub.com
secretary@regentskatingclub.com