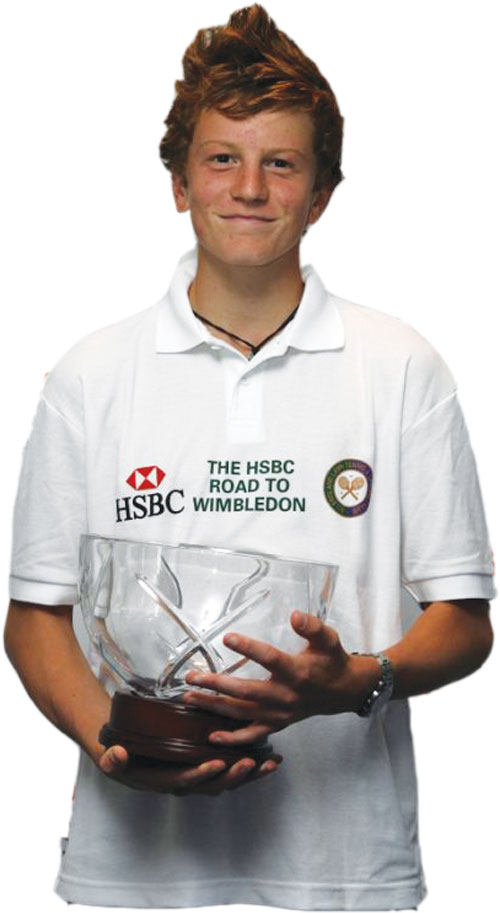 Age? 17
School? I was at De La Salle but left in Year Seven to go to Milfield in the UK.
Favourite Animals? Dogs… I would love a chocolate labrador.
Perfect Weekend? My perfect weekend would be winning a big tournament on the Friday, then coming back to Jersey to see my  friends and family and going out with them in the evening for a meal.
Favourite food? When I am away at tournaments I crave my mum's  roast dinner (lamb preferably). I also love to go to Abilio's Restaurant for an espetada as I really like the cooking there.
Favourite dance moves? I do like to bring the robot out occasionally .
Pet hate? I don't really have many hates in life but if I was to choose one it would be all the travelling I have to do for tennis which means I have to come and go from Jersey.
Guilty pleasure? Chocolate… I do like a really good Lindt chocolate bar or some Ferrero Rocher occasionally.
When did you start tennis? At the age of three.
What is the secret to being good at tennis? To be good at tennis or  any sport you need to have good dedication and you must be willing  to sacrifice a lot but it will hopefully be worth it in the end.
Complete the sentence 'Not many people know that I..' played in goal for Jersey until I left the island when I was in year 7 at De La Salle.
Recent competitions? I have won my last two International Tennis Competitions in Spain and Cyprus and got my  Junior World Ranking up to 180 and hope to play the Grand Slams  next year.   I am playing three weeks tennis now in Asia so hope to do well.
How did you prepare for it? Training in hot conditions as it's very warm and humid here and I also got used to having a drinks bottle with me 24/7.
Favourite moment in your tennis career? It would have to be when I went to Shanghai after winning the 2008 HSBC Road To Wimbledon and played tennis and met one of the greatest tennis players ever, Bjorn Borg.
How can people get into tennis? There are a lot of good clubs on the  island like Caesarean and Grainville tennis clubs with good coaches  who have a wealth of experience. They can accommodate any standard and would help bring on your game a lot.